6 Ways Government Shutdown Will Impact Science, Health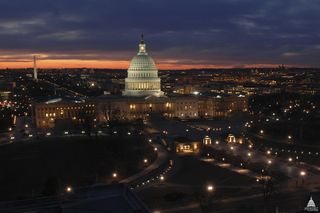 (Image credit: Architect of the Capitol)
The clock ran out for the U.S. Congress to agree on a budget bill and avoid a federal government shutdown. In addition to furloughs keeping thousands of government workers from their jobs, the shutdown will have wide consequences for the country's science, innovation and health.
From a panda cam gone dark and national park visitors getting the boot, to a halt on the government's flu program, here's a look at six ways the shutdown will impact science.
1. Parks and zoos
National parks and Smithsonian institutions, including the museum and Smithsonian's National Zoo, will be closed. Plans to visit any of the 401 national parks, which cover an area of more than 84 million acres (34 million hectares), to watch the fall leaves change color or zoo trips to spy on the lions, tigers and bears will be quashed. For those already at the parks, such as Yosemite National Park, the Statue of Liberty and Golden Gate National Recreation Area, daily visitors are expected to get an immediate boot from the park, and officials are giving overnight visitors 48 hours to leave. [Photos: The 10 Most Visited National Parks]
But there's no need to worry about the zoo animals, as keepers will be on the clock regardless of the shutdown. "The only federal employees that can work are the exempted or previously approved, which includes security, maintenance and the Zoo employees that are responsible for the care of the animals," said Linda St. Thomas, chief spokesperson for the Smithsonian Institution, as quoted by the Washington Post. You may not be able to get your daily dose of cub cuteness, though; the zoo's panda cam has gone dark due to the shutdown, so no watching the adorable giant panda cub born to Mei Xiang on Aug. 23.
"The cams (incl. the panda cams) require federal resources, especially staff, to run. They have not been deemed essential during a #shutdown," the Zoo tweeted Monday (Sept. 30).
2. Health agencies
The government shutdown will affect the nation's health agencies. The Department of Health and Human Services — which includes the Centers for Disease Control and Prevention (CDC), the National Institutes of Health, the Food and Drug Administration (FDA), and a number of other agencies and offices —will furlough 52 percent of its staff, or 40,512 people, the department said.
A number of agencies' websites may not be updated, and so they may contain out-of-date information.
The CDC "will continue minimal support to protect the health and well-being of U.S. citizens here and abroad through a significantly reduced capacity to respond to outbreak investigations, processing of laboratory samples, and maintaining the agency's 24/7 emergency operations center," according to an HHS document. The agency will retain just 4,071 of its staff of 12,825 people. It will not be able to monitor current flu activity, or link outbreak information across states.
In addition, the agency's ability to prepare a response to emerging outbreaks, including the H7N9 flu outbreak or the Middle East Respiratory Syndrome (MERS) outbreak "could be delayed," HHS said. [The 13 Oddest Medical Case Reports]
The NIH will continue to care for patients at NIH Clinical Centers, but will not accept new patients. The agency will provide "minimal support" for animal care services, but will "discontinue some veterinary services," the HHS said.
The NIH will not be able to take actions on grant applications. The NIH-supported PubMed, which comprises more than 23 million citations for biomedical literature, will be maintained with minimal staff during the shutdown, according to the website.
The FDA "will be unable to support the majority of its food safety, nutrition, and cosmetics activities," HHS said. The agency will not be able to carry out a number of safety activities, including routine established inspections, monitoring of imports, and "the majority of the laboratory research necessary to inform public health decision."
3. The NASA fallout
Things will not fall out of space due to the shutdown. However, of the space agency's 18,000 or so employees, fewer than 600 will continue working through the shutdown in order to ensure safety of human life and protection of property, states a NASA shutdown plan submitted Friday (Sept. 27) to the Office of Management and Budget (OMB).
"If a satellite mission is in the operations phase, we will maintain operations that are essential to ensure the safety of that satellite and the data received from it," the OMB report reads. "However, if a satellite mission has not yet been launched, work will generally cease on that project."
The International Space Station (ISS) and the six members of the current Expedition 37 crew can rest easy: "NASA will shut down almost entirely, but Mission Control will remain open to support the astronauts serving on the space station," President Barack Obama said during a statement delivered from the White House on Monday (Sept. 30).
NASA does have one thing to celebrate: The space agency was launched on Oct. 1, 1958, making today its 55th birthday.
4. Weather forecasting
Some good news here: You'll still get weather forecasts and emergency warnings. Some "3,935 employees at the National Weather Service (NWS) who forecast the weather, issue warnings, support radar, satellite and other weather monitoring, and are involved in computer model operations" are excepted under law as protecting people and property, and will continue working, the Washington Post's Capital Weather Gang blog writes.
Likewise, the National Hurricane Center will continue monitoring storms, including Tropical Storm Jerry now over the Atlantic, and a possible storm developing in the Western Caribbean Sea. [Hurricanes from Above: See Nature's Biggest Storms]
"Please be assured … that the National Hurricane Center will continue operating with no interruption in providing its mission," NHC spokesman Dennis Feltgen said in his voicemail greeting. He was unavailable for further comment due to being furloughed, which prevents government employees from responding to phone calls or emails.
Not all National Weather Service and National Oceanic and Atmospheric Administration (the NWS's parent organization) employees will continue working though. Employees working on weather research — for example, in developing the Global Forecasting System (GFS) model — will not continue working during the shutdown, the Capital Weather Gang said. This model is a rival to a European model — both are being developed in an effort to find the most powerful and accurate weather forecast model.
5. Planet Earth
The U.S. Geological Survey – the bureau that conducts Earth and natural science research for the Department of the Interior – provides water, environmental, and energy information to a variety of Federal agencies and emergency response organizations. Of its 8,623 employees distributed across more than 400 offices, only 43 are exempt from the shutdown, but 200 will remain on call in case of an emergency. Natural disaster programs including flood response, 24/7 earthquake monitoring program, and volcano observations will remain in effect, but the majority of scientific studies – including ecosystem restoration efforts and water quality collection and analysis – will be shut down.
6. Environmental protection
Only about 7 percent of the U.S. Environmental Protection Agency's 16,205 employees will continue working after the shutdown. While emergency response teams will remain intact, ongoing efforts to develop new emissions standards for existing and new power plants — with deadlines in 2014 — will be delayed, as will efforts to develop new renewable fuel standards, also with deadlines in 2014, according to Reuters. Animals used in research will be cared for and sensitive research samples — such as temperature-sensitive ice cores — will be maintained during the shutdown, but the research itself will terminate until the shutdown ends.
LiveScience's Laura Poppick, Rachael Rettner, Andrea Thompson and Jeanna Bryner contributed to this article.
Follow us @livescience, Facebook & Google+. Original article on Live Science.
Stay up to date on the latest science news by signing up for our Essentials newsletter.
For the science geek in everyone, Live Science offers a fascinating window into the natural and technological world, delivering comprehensive and compelling news and analysis on everything from dinosaur discoveries, archaeological finds and amazing animals to health, innovation and wearable technology. We aim to empower and inspire our readers with the tools needed to understand the world and appreciate its everyday awe.