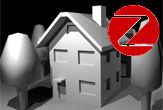 Want the lights to dim and the blinds to close when you press "play" on your DVD player? Want to receive an alert on your TV when the mailman opens your mailbox? No problem. ZigBee, an emerging wireless home-networking standard expected to be widely available next year, is about to open up the lines of intergadget chatter. It doesn't involve wiring, and setup takes just a few minutes.
ZigBee-enabled devices transmit and receive small packets of information, such as temperature readings and on/off commands. The ad-hoc network they create recognizes new compatible products and adjusts communication accordingly. For example, you can add wireless light switches to the network by simply sticking them to the wall. Because ZigBee powers only the command and control, it offers a decade of battery life while maintaining up to 328 feet of range (or more, using one gadget to hop to the next). Look for these devices next year.
SIX WAYS ZIGBEE WILL CHANGE YOUR HOME
? Meet and Greet
Get within a few feet of your home, and a ZigBee-enabled key fob wirelessly unlocks the door. The door lock sends a signal to the lighting, air-conditioning and entertainment systems. The lights and temperature are automatically set to your pre-programmed liking. Your oven can even start cooking your dinner.
? Sensible Sensors
We interrupt "Shark Week" for this important message: There's a leak in your basement. Wall sensors monitor structural stability, and moisture sensors keep tabs on basement flooding. They feed alerts to your TV or e-mail them to you if you're at the office.
? Climate Control
The kids are hot, but you're cold? No problem. You can adjust the thermostat [6] to customize the temperature in multiple rooms. Tweak the thermostat manually or automatically based on readings from wireless sensors placed around the house. Send a text message to turn on the A/C when you're on your way home.
? Safer Space
Smoke and carbon-monoxide detectors instantly report problems to a central monitoring station in your home or to an off-site security service. If the smoke alarm goes off at night, the central hub will trigger selected lights to illuminate the safest exit route.
? No-hassle Light
Because ZigBee devices are wireless, controlling a networked light is as easy as sticking a switch to the wall. No messing around with wiring, which typically costs $20 a foot. ZigBee chips that transmit information "sleep" when not in use, so a light switch that controls an overhead fixture could work for decades.
? Smart Sprinkler
Timer-based sprinkler systems have one fundamental flaw: They'll activate even when torrential rain rolls through. The ZigBee-enabled sprinkler, on the other hand, will respond to soil sensors that monitor moisture and turn on only when necessary.
Stay up to date on the latest science news by signing up for our Essentials newsletter.