Golden Galaxy | Space Wallpaper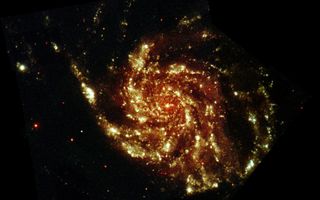 (Image credit: ESA/XMM & R. Willatt)
The face-on spiral galaxy M101, or the Pinwheel Galaxy, is seen at ultraviolet and optical wavelengths in this amazing space wallpaper taken by ESA's XMM-Newton space telescope. This image was released June 10, 2013.
Stay up to date on the latest science news by signing up for our Essentials newsletter.
Space.com is the premier source of space exploration, innovation and astronomy news, chronicling (and celebrating) humanity's ongoing expansion across the final frontier. We transport our visitors across the solar system and beyond through accessible, comprehensive coverage of the latest news and discoveries. For us, exploring space is as much about the journey as it is the destination.