Astronaut Snaps Photo of Raging California Wildfire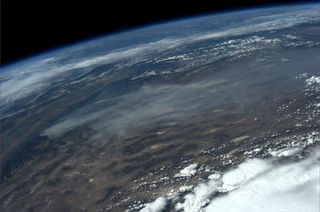 (Image credit: Karen L. Nyberg (via Twitter as @AstroKarenN ))
A wildfire raging in Northern California can be seen from space.
NASA astronaut Karen Nyberg snapped a photo of the blaze from her post aboard the International Space Station on Saturday (Aug. 24).
"Our orbit took us directly over California's Rim Fire about an hour ago Devastating August 26," Nyberg wrote on her Twitter account, @AstroKarenN.
The Rim Fire, which started on Aug. 17, has burned more than 149,000 acres of land, threatening homes, Yosemite National Park, sequoias and San Francisco's water supply. The fire is now 15 percent contained, with more than 3,000 personnel working to stop its spread. [Yosemite Aflame: Rim Fire in Photos]
"Hundreds of people were forced to evacuate their homes, and roads in the area were closed," NASA's Earth Observatory wrote. "As of Aug. 23, no structures had been reported destroyed, but the fire threatened the towns of Groveland and Pine Mountain Lake."
This has been a somewhat less active year for wildfires compared to other years in recent memory, the Earth Observatory reported. Wildfires have so far charred 3.4 million acres in the United States in 2013, observatory officials said. By comparison, in 2012, wildfires burned more than 9.3 million acres of land, according to statistics provided by the National Interagency Fire Center.
Although this year might be on the lower side of the average, some scientists think that fire risk could increase overall by the end of the century. Hot and dry conditions could lead to an increased risk of fire for the United States, Canada and Mexico.
"Over the last 30, years we have seen an increase in hot and dry conditions that promote fire activity," Doug Morton, a scientist at NASA's Goddard Space Flight Center in Greenbelt, Md., said in a statement. "And across the Western United States and Alaska, satellites show an increase in the area that burns each year over that same time period."
Astronauts aboard the International Space Station have spotted wildfires before. In June 2012, a wildfire in Colorado that consumed 15,517 acres of land was photographed from a window of the orbiting laboratory. A 2011 wildfire burning in Texas was also seen by astronauts onboard the outpost.
Satellites in orbit around the Earth have captured images of the wildfire's progress, as well. On Aug. 22, NASA's Aqua satellite photographed smoke rising from the fire, and a day later, the space agency's Suomi NPP satellite shot a photo of the blaze.
Follow Miriam Kramer @mirikramer and Google+.
Stay up to date on the latest science news by signing up for our Essentials newsletter.
Miriam Kramer joined Space.com as a staff writer in December 2012. Since then, she has floated in weightlessness on a zero-gravity flight, felt the pull of 4-Gs in a trainer aircraft and watched rockets soar into space from Florida and Virginia. She also serves as Space.com's lead space entertainment reporter, and enjoys all aspects of space news, astronomy and commercial spaceflight. Miriam has also presented space stories during live interviews with Fox News and other TV and radio outlets. She originally hails from Knoxville, Tennessee where she and her family would take trips to dark spots on the outskirts of town to watch meteor showers every year. She loves to travel and one day hopes to see the northern lights in person.