White Heat | Space Wallpaper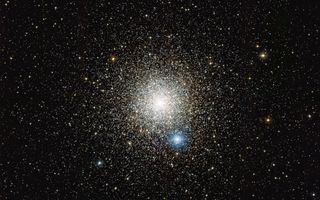 (Image credit: ESO)
This spectacular space wallpaper from the Wide Field Imager on the MPG/ESO 2.2-metre telescope at the La Silla Observatory in Chile shows the globular star cluster NGC 6752 in the southern constellation of Pavo (The Peacock). Studies of this cluster using ESO's Very Large Telescope have unexpectedly revealed that many of the stars do not undergo mass-loss at the end of their lives. This image was released May 29, 2013.
Stay up to date on the latest science news by signing up for our Essentials newsletter.
Space.com is the premier source of space exploration, innovation and astronomy news, chronicling (and celebrating) humanity's ongoing expansion across the final frontier. We transport our visitors across the solar system and beyond through accessible, comprehensive coverage of the latest news and discoveries. For us, exploring space is as much about the journey as it is the destination.