Baldness Drug May Protect Men from Prostate Cancer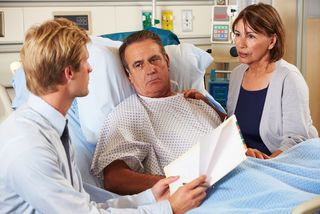 (Image credit: <a href='http://www.shutterstock.com/pic.mhtml?id=125077220&src=id'>Man in hospital photo</a> via Shutterstock)
A drug used to treat an enlarged prostate and male-pattern baldness also seems to help prevent prostate cancer, a new long-term study suggests.
Researchers found that middle-age and older men who took finasteride (sold as Propecia and Proscar) daily for seven years reduced their risk of prostate cancer by about one-third compared with men who took a placebo.
"A 30 percent reduction in risk, with over 200,000 cases of prostate cancers per year, is a profound reduction in the number of cancers," said study researcher Dr. Ian Thompson, director of the Cancer Therapy and Research Center at the University of Texas Health Sciences Center at San Antonio.
"Finasteride primarily prevents those tumors that can lead to overtreatment — the low-grade cancers," Thompson said. Men receiving the drug showed a 43 percent reduction in low-grade tumors.
The new study was a follow-up to the Prostate Cancer Prevention Trial, which tracked about 19,000 men whose average age was 62. [5 Myths About the Male Body]
When that trial ended in 2003, researchers reported that men who took finasteride reduced their odds of developing prostate cancer by slightly less than what was found in the new study — 25 percent — compared with men who took a placebo.
However, the 2003 study also found that men taking finasteride were 27 percent more likely to have high-grade, fast-growing cancers — sparking concerns about the drug's use in cancer prevention, and prompting the U.S. Food and Drug Administration in 2011 to request a warning label be added to the drug, alerting consumers to this potential risk.
Other evidence has suggested that finasteride improves the detection of prostate cancer, making tumors more likely to be found during prostate-cancer screenings.
The study is published online today (Aug. 14) in the New England Journal of Medicine.
Similar survival rates
The new study compared the long-term survival rate of men who took finasteride with the survival rate of the men who did not take the drug.
The survival rates of the men in the two groups were similar: 83 percent of men who took finasteride and had low-grade prostate cancers survived 10 years after their diagnosis, and nearly 81 percent of men in the placebo group with low-grade cancers lived that long.
For men with high-grade cancers, 10-year survival rates were nearly identical, at 73 percent in the finasteride group and almost 74 percent among those not taking the drug.
"The results are reassuring, because when finasteride was previously used in a large study, there seemed to be an increase in the risk of high-grade cancers," said Dr. Michael LeFevre, a professor of family and community medicine at the University of Missouri School of Medicine, who wrote an editorial accompanying the research in the journal.
Now, there's good evidence that taking finasteride doesn't result in a change in life expectancy, and if a high-grade cancer is found in men who take the drug, it doesn't appear to shorten their life, LeFevre said.
Thompson recommended that men speak with their physicians about the new findings.
A man who has a higher risk of prostate cancer due to his family history or an increased prostate-specific antigen (PSA) value is most likely to benefit from finasteride, Thompson said.
The drug may also reduce symptoms for men with noncancerous prostate enlargement, known as benign prostatic hyperplasia (BPH), Thompson added.The condition can cause difficulty urinating, or the need to urinate often.
Risks versus benefits
LeFevre added that right now, the use of finasteride to prevent prostate cancer only applies to men who have decided to be screened for the disease with PSA testing.
In 2012, the U.S. Preventive Services Task Force, a panel of health experts on which LeFevre served, recommended against PSA testing because they believed the screening's benefits did not outweigh its risks.
One risk of being screened is identifying more cancers, LeFevre said. However, many of those cancers are not likely to hurt men because they are often caused by low-grade tumors. Nonetheless, many men get treated anyway once the cancers are detected, he explained. Treatments for prostate cancer can cause erectile dysfunction and incontinence.
Finasteride, which is designed to block the body's production of the hormone testosterone, seems to be more effective in blocking testosterone in the prostate gland, LeFevre pointed out, but the drug's side effects may include sexual dysfunction, hot flashes and a lack of energy.
For now, there isn't a scientifically tested means to prevent prostate cancer, LeFevre said. "In that context, finasteride is an important contribution to the science."
Follow LiveScience @livescience, Facebook & Google+. Original article on LiveScience .
Stay up to date on the latest science news by signing up for our Essentials newsletter.
Cari Nierenberg has been writing about health and wellness topics for online news outlets and print publications for more than two decades. Her work has been published by Live Science, The Washington Post, WebMD, Scientific American, among others. She has a Bachelor of Science degree in nutrition from Cornell University and a Master of Science degree in Nutrition and Communication from Boston University.