Philadelphia Shatters Record for the Heaviest Rain in a Day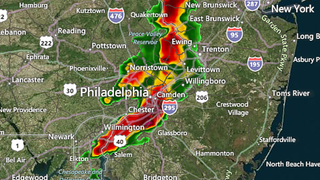 (Image credit: AccuWeather.com)
This article was provided by AccuWeather.com.
Torrents of rain over the Philadelphia metro area late on Sunday afternoon turned roads into lakes, submerged cars and made travel very difficult.
A whopping 8.02 inches of rain fell at the Philadelphia International Airport, with 7.35 inches falling between 3 p.m. and 7 p.m. EDT.
Runoff from the heavy rain flooded ramps between Interstate 95 and Broad Street in Philadelphia. Flooding also ensued on Interstate 76 in nearby Gloucester City, N.J.
With the added rain, numerous rainfall records were broken in Philadelphia.
-The 8.02 inches of rain on Sunday shattered the previous record for the day of 3.28 inches set in July 1969.
-The 8.02 inches also established a new record for the most rain on any calendar day, breaking the previous record of 6.63 inches on Sept. 16, 1999 during Tropical Storm Floyd.
-The 13.00 inches through July 28th makes this July the wettest on record and the third wettest month overall, behind 19.31 inches in August 2011 and 13.07 inches in September 1999.
This radar image was taken at 4:15 p.m. EDT Sunday.
Philadelphia International Airport topped the nation's hubs for both incoming and outgoing delayed flights Sunday, totaling over 530. According to FlightStats, it was the only airport in America to still list moderate delays to start off Monday morning.
Localized flash flooding will remain a concern for parts of the Northeast as showers and thunderstorms occur along and ahead of a cold front crawling eastward through Monday.
Low-lying and poor drainage areas, as well as places along small streams, are most susceptible to any flash flooding.
A handful of the thunderstorms will also produce damaging winds. A tornado touching down would be an isolated occurrence, but cannot be ruled out.
RELATED: Interactive Northeast Regional Radar Forecast Temperature Maps Has Summer Heat Come to an End?
The departure of the drenching showers and thunderstorms will be followed by the return of less humid air.
Drier air will work into New York City and Albany, N.Y., starting midday on Monday. Boston and Portland will dry out on Monday night.
Partly sunny skies and highs in the mid-80s will compliment Monday in New York City, Philadelphia and Washington, D.C.
Farther to the north across the eastern Great Lakes and northern New England, the drop in humidity behind the cold front will not necessarily lead to dry weather.
Clouds and spotty showers will linger an extra day, on Monday around the Great Lakes and on Tuesday in northern New England as an area of low pressure moves through.
Monday will actually feel more like September than late July around the eastern Great Lakes, including in Buffalo, as temperatures are held to the upper 60s and lower 70s.
© AccuWeather.com. All rights reserved. More from AccuWeather.com.
With much of the country experiencing an unseasonably warm winter, fears of climate change come to mind. See how well you understand recent weather, climate and the difference between them.
Weather vs. Climate Change: Test Yourself
Stay up to date on the latest science news by signing up for our Essentials newsletter.