U.S. Military Prepares for Global Unrest Amid Climate Fears (Op-Ed)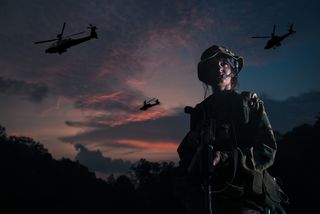 (Image credit: <a href="http://www.shutterstock.com/gallery-92840p1.html">koh sze kiat</a> | <a href="http://www.shutterstock.com">Shutterstock</a>)
Marlene Cimons of Climate Nexus contributed this article to Live Science's Expert Voices: Op-Ed & Insights.
Though Earth's shifting climate evokes many images, civil unrest usually isn't one of them. Yet, a warming planet could have a profound impact on national security, both in the United States and abroad. This time, the threat isn't from terrorism or a single enemy, but from natural disasters occurring on an unprecedented scale.
Acts of nature fueled by a warming climate — for example, floods and prolonged drought — may lead to disrupted migration, food and water shortages, and other public health crises — which, in turn, could prompt civil and political instability. Those impacts would pose a particularly profound threat for people in countries with fragile governments, including key U.S. strategic interests.
This threat has Pentagon officials worried enough to speak out and to invest in research to better understand the relationships among conflict, socioeconomic conditions and climate. The U.S. Department of Defense (DOD) plans to use the data to predict future threats and develop ways to cope with them.
Under its highly selective Minerva social-science program, the DOD has awarded researchers at the University of Maryland a three-year, $1.9 million grant to develop models that will help policymakers anticipate what could happen to societies under a range of potential climate-change scenarios.
"It's likely that physical and economic disruptions resulting from climate change could heighten tensions in sensitive areas of the world," said Elisabeth Gilmore, an assistant professor at the University of Maryland's school of public policy and the study's lead researcher. "The environmental changes from climate change can have important effects on our well-being and security. We need to better understand these interactions."
Her team plans to use statistical models and case studies to identify the best predictors of climate-related conflict, and then use the data and a novel simulation method to generate forecasts of conflict over a range of socioeconomic and climate-change scenarios. Finally, the project will identify a range of military and policy interventions that could reduce the occurrence of climate-related civil conflict.
The Pentagon has been concerned about the national security implications of climate change for quite some time, and military officials have continued to speak out about them.
For example, Navy Adm. Samuel J. Locklear III, who leads the U.S. Pacific Command, repeatedly has warned of the national security dangers of climate change. In fact, earlier this year, he said global warming was "the most likely thing ... [to] cripple the security environment, probably more likely than the other scenarios we all often talk about."
In 2007, CNA, a Pentagon-funded think tank that conducts in-depth research and analysis, released a report from a panel of retired senior military officers and national security experts who predicted that extreme weather events prompted by climate shifts could disrupt the U.S. way of life and cause already weak governments to fall, particularly in many Asian, African and Middle Eastern nations where marginal living standards already exist.
Moreover, the report warned that the United States may find itself drawn into these situations to help provide stability before conditions worsen, before they are exploited by extremists or after a conflict has begun. Even stable governments, like the United States' and those of nations in Europe, could be pressured to take in large numbers of immigrants and refugees as drought increases and food production dwindles in Latin America and Africa, the report added.
Some researchers have suggested that framing climate change as a threat to national security and public health, rather than to the environment, might make the issue more relevant and meaningful to many conservative Americans and others who tend to deny or dismiss it. But, surprisingly, recent research published in Climatic Change by Teresa Myers of George Mason University and her colleagues indicated that such seems to make those individuals angry.
The researchers weren't sure why this approach elicited an angry response, but they wonder whether the climate-change deniers resented an attempt to connect national security — an issue they care about — with climate change, an issue they tend to dismiss. Or, they may have been upset with the researchers for presenting claims about global warming and national security they did not think were authentic or credible.
Instead, perhaps the doubters should read the words of retired U.S. Gen. Gordon R. Sullivan, chairman of CNA's military advisory board and the U.S. Army's former chief of staff. He seems to believe that enough scientific evidence of climate change's impact exists to be sobering — and that it deserves the U.S. government's attention.
"We seem to be standing by —and, frankly, asking — for perfectness in science,"' Sullivan wrote in the 2007 CNA report. "People are saying they want to be convinced, perfectly. They want to know the climate-science projections with 100 percent certainty. Well, we know a great deal, and even with that, there is still uncertainty. But the trend line is very clear. We never have 100 percent certainty. We never have it. If you wait until you have 100 percent certainty, something bad is going to happen on the battlefield. That's something we know. You have to act with incomplete information. You have to act based on the trend line. You have to act on your intuition sometimes."
Cimons' most recent Op-Ed was 'Another 1930s Dust Bowl Drought Possible This Century,' and additional contributions are available on her profile page. The views expressed are those of the author and do not necessarily reflect the views of the publisher. This article was originally published on Live Science.
Stay up to date on the latest science news by signing up for our Essentials newsletter.