Celestial Fireworks | Space Wallpaper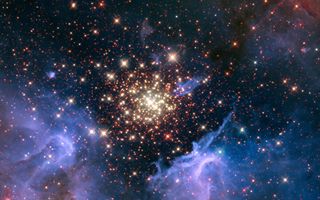 (Image credit: NASA, ESA, R. O'Connell (University of Virginia), F. Paresce (National Institute for Astrophysics, Bologna, Italy), E. Young (Universities Space Research Association/Ames Research Center), the WFC3 Science Oversight Committee, and the Hubble Heritage Team)
Like a July 4 fireworks display, a young, glittering collection of stars looks like an aerial burst, as seen in this space wallpaper. The cluster is surrounded by clouds of interstellar gas and dust—the raw material for new star formation. The nebula, located 20,000 light-years away in the constellation Carina, contains a central cluster of huge, hot stars, called NGC 3603.
Stay up to date on the latest science news by signing up for our Essentials newsletter.
Space.com is the premier source of space exploration, innovation and astronomy news, chronicling (and celebrating) humanity's ongoing expansion across the final frontier. We transport our visitors across the solar system and beyond through accessible, comprehensive coverage of the latest news and discoveries. For us, exploring space is as much about the journey as it is the destination.