Sibling Bullying Is Under-Recognized, Study Finds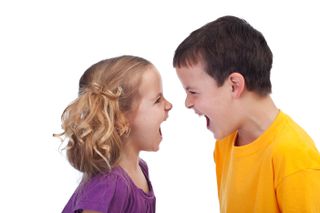 (Image credit: <a href='http://www.shutterstock.com/pic.mhtml?id=95254843&src=id'>Siblings picture</a> via Shutterstock)
Across the U.S., parents, educators, doctors and other experts have rallied to protect children from bullies. However, bullying by brothers and sisters is often chalked up to normal sibling behavior. Now a new study finds that sibling aggression, like peer aggression, causes mental distress, which can lead to anger, depression and anxiety in the child who is being targeted.
The researchers found that 32 percent of the children and adolescents had experienced one type of sibling aggression during the previous year.
Further, the study showed that regardless of whether the aggression was mild or severe, bullied kids had significantly worse mental health than children who were not bullied.
"There is a natural emotional intensity to sibling relationships," said lead author Corinna Jenkins Tucker, an associate professor of family studies at the University of New Hampshire. "There is a lot of love, but also the potential for a lot of conflicts."
The researchers analyzed information from telephone interviews with nearly 3,600 adolescents ages 10 to 17, and with adult caregivers of children 9 and under. Each youngster had at least one sibling under 18 who was living at home. The data were obtained as part of The National Survey of Children's Exposure to Violence, which documents the incidence and prevalence of youngsters' exposure to violence.
During the interviews, the researcher asked if the adolescent or child had been bullied by a sibling during the past year. As the researchers defined it, bullying included physical assault, property victimization (such as forcibly taking something a child was wearing, or destroying something belonging to the child), or psychological aggression (such as name-calling, or telling the child he or she wasn't wanted around).
In addition, researchers asked the youngsters if they had experienced anger, depression or anxiety during the previous month.
Eight percent of the children interviewd had experienced two or more types of sibling bullying duringthe previous year. Children who were even mildly physically assaulted by a sibling had greater mental distress than adolescents who were not assaulted. However, all the kids were similarly affected by the other types of sibling aggression.
Tucker said that parents and other adults often downplay sibling aggression. As a result, it's "under-recognized and under-estimated," she said. "Our work is showing that in some cases, the mental distress associated with sibling aggression is similar to what we see with peer aggression. It is something to be taken seriously."
Mark E. Feinberg, a research professor at the Prevention Research Center at Penn State University, said "while our society has been working to eliminate bullying, it has not touched the relationship that is most violent — the sibling relationship."
The findings are "are not news to those of us who have been paying attention to sibling relationships," but because the study involved a large, nationally representative sample, the findings should focusattention on sibling aggression, said Feinberg, who was not involved with the study.
"The question then is, what do we do about it?" he said. "Nobody yet has the answer on how to deal with this problem."
According to Tucker, when parents notice bullying, they should step in. "It is an opportunity for parents to act as a mediator, and teach constructive conflict skills," she said.
Parenting programs, Tucker added, should include discussions about sibling bullying as well. "There is a big push now to stop aggression, particularly between peers, and we are suggesting that these programs include a focus on siblings," she said.
The study is published today (June 17) in the journal Pediatrics.
Follow LiveScience @livescience, Facebook &Google+. Original article on LiveScience.com .
Stay up to date on the latest science news by signing up for our Essentials newsletter.