How Can I Tell If I'm Suffering from Sleep Apnea?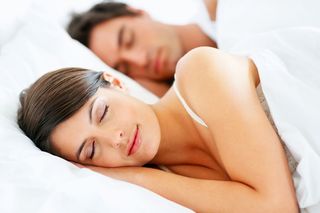 "The Healthy Geezer" answers questions about health and aging in his weekly column.
Question: How can I tell if I'm suffering from sleep apnea?
Answer: About 18 million Americans have sleep apnea. It's much more common in older adults and men. Apnea is Greek for "without breath."
People with sleep apnea stop breathing for as long as 30 seconds at a time. These interruptions can happen hundreds of times a night. The breathing cessations may wake you and prevent you from getting a good night's sleep. These awakenings usually are so brief that you don't recall them.
The most common symptoms of sleep apnea include:
Excessive daytime sleepiness
Loud snoring
Observed episodes of breathing stoppages during sleep
Abrupt awakenings with shortness of breath
Awakening with a dry mouth or sore throat
Morning headache
Problems associated with sleep deprivation such as forgetfulness and mood changes.
About 90 percent of sleep-apnea victims have a windpipe blockage. Obstructive sleep apnea occurs when the muscles in the back of your throat relax. These muscles support the soft palate, tonsils, tongue and uvula — that doohickey that hangs in the back of your mouth. When the muscles relax, your airway is narrowed and breathing is cut off. A blockage can also be caused by a lot of fatty tissue in the throat.
Stay up to date on the latest science news by signing up for our Essentials newsletter.
Fred Cicetti is a contributing writer for Live Science who specializes in health. He has been writing professionally since 1963. Before he began freelancing, he was a reporter, rewriteman and columnist for three daily newspapers in New Jersey: The Newark News, Newark Star-Ledger and Morristown Record. He has written two published novels:" Saltwater Taffy—A Summer at the Jersey Shore," and "Local Angles—Big News in Small Towns."