False Alarm Mammograms Affect Women for Years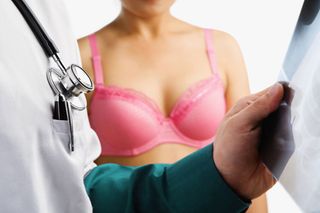 (Image credit: Dreamstime)
Women who receive bad news after a mammogram may have psychological difficulties — regardless of whether they later turn out to actually have breast cancer, a new study from Denmark shows.
Women in the study who received a "false positive" mammogram result, who were subsequently found to not have breast cancer, reported a similar degree of change in their calmness and their values six months later compared with women who later learned they did have breast cancer, the study showed.
"Having a false positive is not harmless and causes undesirable outcomes in the long run," the researchers wrote in their study, published today (March 18) in the journal Annals of Family Medicine.
The researchers at the University of Copenhagen looked at 454 women in Denmark who, over a one-year period, received abnormal findings on a mammogram, including 272 women whose abnormal findings turned out to be a false alarm. They compared these women with 900 who received normal screening results.
"Screening for cancer has the potential for intended beneficial effects, with the reduction on cancer mortality as the most important," the researchers wrote. "Inevitably, however, screening for cancer also has unintended harmful effects," such as detecting cancers that would never cause problems and false-positive results.
The women in the study completed a questionnaire and reported aspects of their mental states such as whether they were feeling dejected or anxious, or if their mammogram findings were negatively affecting their sleep or sexuality.
Three years later, women who had received false positives were better off psychologically than women who had breast cancer, but still worse off than women with normal mammograms, according to the study.
The researchers noted that some women with abnormal mammograms had opted not to participate in the study, with many of them saying they were too scared about their results to participate. "We might therefore have underestimated the negative psychosocial consequences for those women with breast cancer and false positives," the researchers wrote.
In Denmark, women ages 50 to 69 are screened every other year.
In the U.S., screening guidelines vary — the U.S. Preventive Services Task Force recommends that women be screened every two years starting at age 50, whereas the American Cancer Society recommends screening begin at 40 and be repeated yearly.
Over a decade of screening, as many as 60 percent of women may receive a false-positive result, previous studies have shown.
Pass it on: Women who experience a "false alarm" mammogram may experience negative psychological effects for years afterward.
Follow Karen Rowan @karenjrowan. Follow MyHealthNewsDaily @MyHealth_MHND, Facebook & Google+.
Stay up to date on the latest science news by signing up for our Essentials newsletter.
Karen came to LiveScience in 2010, after writing for Discover and Popular Mechanics magazines, and working as a correspondent for the Journal of the National Cancer Institute. She holds an M.S. degree in science and medical journalism from Boston University, as well as an M.S. in cellular biology from Northeastern Illinois University. Prior to becoming a journalist, Karen taught science at Adlai E. Stevenson High School, in Lincolnshire, Ill. for eight years.