Obesity Increases Risk of Advanced Prostate Cancer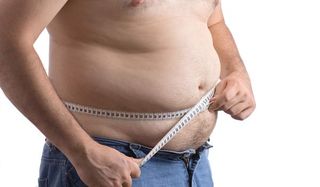 (Image credit: Ljupco Smokovski | Dreamstime)
Obesity seems to have a complex relationship with prostate cancer — it increases men's risk of developing an aggressive form of the disease, but may lower the risk of developing a less-threatening form, a new review suggests.
The mechanisms behind these different effects on men's risk, however, are unclear, study authors said.
Researchers looked at 12 studies on localized prostate cancer, which is cancer confined to the prostate gland, and 13 studies on advanced prostate cancer, in which cancer had spread beyond the prostate to the lymph nodes, bones or other organs of the body.
In any case, losing weight is generally a good idea for obese men.
"If you're obese and lose weight, you're not guaranteed to ward off cancer," said Dr. Stacy Loeb, a urologist who specializes in prostate cancer at the New York University Langone Medical Center.
"But it may contribute in decreasing your risk of [aggressive prostate cancer] and other diseases," said Loeb, who was not involved with the study.
The study was published Jan. 6 in the journal Annals of Oncology.
Obesity is a risk factor for major chronic diseases
Prostate cancer is the most common type of cancer in men. About 1 in 6 men will be diagnosed with prostate cancer during his lifetime, according to the American Cancer Society.
Previous evidence has suggested there may be a link between obesity and prostate cancer.
For example, in one previous study, researchers found that in obese men who had lower levels of testosterone, there was a decreased risk of localized prostate cancer, and an increased risk of advanced prostate cancer.
Along with increasing the risk of advanced prostate cancer, obesity is a risk factor for major chronic diseases such as diabetes, high blood pressure, cardiovascular diseases and other kinds of cancer.
"Prostate cancer is partially affected by genetics and environmental factors," Loeb said.
"There's not much men can do if they have a genetic risk, but if there are lifestyle factors that they can change, like weight loss, this may help reduce their risk," she said.
Leading a healthy lifestyle can't hurt
From medical literature databases, researchers identified 25 studies on localized and advanced prostate cancer conducted between 1997 and 2011. They looked at the body mass index (BMI) to observe the relationship between obesity and the risk of prostate cancer. BMI is a measure of body fatness.
Results showed that for every 5-point increase in body mass index, a man's risk of developing localized prostate cancer decreased by 6 percent.
However, the risk of developing advanced prostate cancer rose by 9 percent.
"The risk was modest," Loeb said. "So, men shouldn't freak out."
She also pointed out that other risk factors are much more strongly linked with prostate cancer risk than obesity. "Obesity doesn't mean you're definitely going to get prostate cancer, and there's no guarantee that you're safe if you're not obese," Loeb said.
Still, she said, "Losing weight reduces the risk of all other health problems, so if it's helpful in reducing the risk of prostate cancer, it would fit in with the overall health message of leading a healthy lifestyle."
Pass it on: Obesity seems to have a dual effect on prostate cancer.
Follow MyHealthNewsDaily on Twitter @MyHealth_MHND. Find us on Facebook.
Stay up to date on the latest science news by signing up for our Essentials newsletter.