Food Safety Recipe: Better Education, Criminal Convictions Needed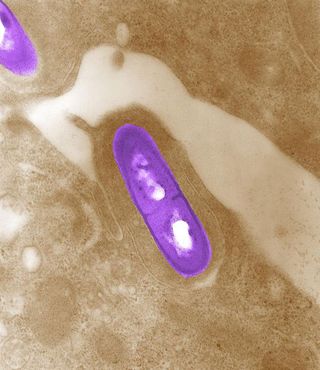 (Image credit: CDC/ Dr. Balasubr Swaminathan; Peggy Hayes)
Fifteen years ago this month, an outbreak of E. coli from unpasteurized apple juice sickened 60 to 70 people, killed a 16-month-old girl from Denver and caused 14 children to develop a serious kidney condition that can require lifelong dialysis treatments.
The federal case brought against juice maker Odwalla resulted in the first criminal conviction for food-borne illness , although no one in the company served time in jail. The company was fined $1.5 million for distributing contaminated juice the largest fine ever issued in the United States for food poisoning.
After the trial, U.S. Attorney Joseph Johns, who was involved in the case, said, "We're interested in preventing this from ever happening again."Today, we seem to be far from that goal. Outbreaks of food-borne disease continue to happen, numerous times a year, every year. To date, the current outbreak of listeria from cantaloupes has sickened 133 people and killed 28 that death toll makes it the deadliest outbreak in the last 25 years.
On the face of it, it seems outbreaks should be preventable when proper sanitation and manufacturing are followed. But can we truly avert these events?
Experts say we can't expect to eliminate outbreaks completely there will always be risks inherent in eating.
"Food isn't sterile," said James Dickson, a food safety expert and professor at Iowa State University. "The only way you would ever get away from food-borne disease outbreaks is if you refused to allow the sale of any raw product in the marketplace," Dickson said.
But outbreaks could be reduced significantly. Better education among those in the food industry, increased resources for the Food and Drug Administration and sending people to jail for negligence when an outbreak occurs at their company may help, experts say.
Above all, food producers must put the safety of their customers first.
"The biggest thing that can be done is that anyone producing or selling food needs to adopt a culture of food safety that puts not making your customers sick as your first priority," said Douglas Powell, a professor of food safety at Kansas State University. "If your customers are dead or dying, it's not easy to make money.
Should the government do more?
Experts say that we are better off today than during the Odwalla outbreak. In fact, the reason why we hear so much about food-borne disease outbreaks these days is likely because we're doing a better job of catching them. If the current listeria outbreak in cantaloupes had happened 15 years ago, we probably wouldn't have recognized it, Dickson said.
The United States has made several changes to bolster food safety since Odwalla. For one, more stringent laws regarding pasteurization were implemented, making it harder to sell unpasteurized juice.
And this January, the government passed the Food Safety Modernization Act , which focuses on tackling outbreaks before they occur. Among other things, the bill requires the FDA to conduct more frequent inspections.
Some say, however, such government oversight and increased inspections will do little good. In the case of Jensen Farms , the Colorado company that sold the tainted cantaloupes, inspections took place just days before the outbreak.
"It's not up to government to produce safe food. It's up to producers to know how to produce safe food," Powell said.
Other experts agreed. "You can't inspect in quality or safety," said Robert Gravani, a professor of food science at Cornell University. "You have to build it in."
But in any case, the FDA would need more funding to enforce the regulations set by the new food safety bill. So far, this has not happened, Dickson said.
"If FDA doesn't have the resources to enforce it, it's just words on a piece of paper," Dickson said. Unless the FDA is adequately funded, "then I don't know how much difference [the food safety act is] really going to make, he said."
Jail time
Producing food on a large scale means that even tiny mistakes can have big consequences.
"Mass production has a relatively small margin of error," said Bill Marler, a Seattle lawyer who specializes in food-borne illness cases. "One bit of contamination can get amplified pretty quickly," Marler said.
To make real strides in preventing outbreaks, those in the food industry must keep food safety at the forefront of their minds. Employees should wash hands, make sure the water used to wash produce is clean and closely monitor conditions inside manufacturing facilities. Conditions often deteriorate gradually, Dickson said, and can become hazardous without anyone noticing. In the Jensen Farms outbreak, listeria was found in pools of water on the floor of a packing shed.
Educating everyone involved in the production and distribution of food may also help reduce outbreaks. This can be as simple as demonstrating proper hand-washing and outlining the potentially deadly consequences of unclean hands for food production workers, Gravani said.
High fines, such as those issued in the Odwalla outbreak, are not likely to change much, he said. Companies involved in outbreaks already pay an extremely high price in lost produce and a damaged reputation.
"That kind of dwarfs any kind of fine the government would put on them," Dickson said. "There's no value in making people sick."
On the other hand, more criminal convictions may set an example for food companies.
"There's almost no criminal convictions; there should be more," Powell said. "Right now you can sicken and kill your customers, and [companies] have no consequences other than embarrassment in the marketplace."
Marler, who represented the families of those affected by the Odwalla outbreak, agreed.
"That sends a big strong message to the food industry," that they shouldn't engage in the same activities as the convicted companies, he said.
Pass it on: We'll likely never eliminate outbreaks of food-borne illness, but increased education and even jail time for negligent food producers may help.
10 New Ways to Eat Well 7 Common Summer Health Concerns More Deaths Expected in Cantaloupe-Related Listeria Outbreak: CDC
Follow MyHealthNewsDaily staff writer Rachael Rettner on Twitter @RachaelRettner. Find us on Facebook.
Stay up to date on the latest science news by signing up for our Essentials newsletter.
Rachael is a Live Science contributor, and was a former channel editor and senior writer for Live Science between 2010 and 2022. She has a master's degree in journalism from New York University's Science, Health and Environmental Reporting Program. She also holds a B.S. in molecular biology and an M.S. in biology from the University of California, San Diego. Her work has appeared in Scienceline, The Washington Post and Scientific American.