Doctors Race to Save Baby Born with Heart Outside His Body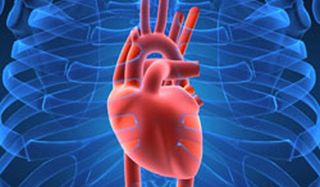 (Image credit: Dreamstime)
Baby Xin Xin has the most vulnerable heart in the world.
The 2-month-old boy, born in Chongqing, China, suffers from a rare congenital defect that caused his heart to develop on the outside of his body. Only about eight babies per million are born with the condition, called ectopia cordis, and very few make it past their first day of life.
Chinese surgeons are preparing for an extremely difficult procedure that is Xin Xin's only shot at survival. After making space in the baby's chest cavity, they'll attempt to move his heart inside from its current position on his abdomen. Only a handful of babies with ectopia cordis have survived such a procedure since it was first attempted 35 years ago.
Despite its dangers, surgery is the only option for Xin Xin. "Overall, the odds of survival are very low (approaching zero) if it is not surgically repaired," said Eliot Rosencranz, a pediatric surgeon at the University of Miami Miller School of Medicine who has operated on newborns with ectopia cordis in the past. "The chances are remote, since infection occurs in exposed tissues," Rosencranz told Life's Little Mysteries.
As well as bacteria, a physical nudge would be deadly too. The heart is usually protected by a sturdy cage of bone and muscle. If Xin Xin's heart stays outside his body, "normal contact or small knocking will be fatal to him," his doctor, Zhang Yuping, vice director of pediatrics at Xinqiao Hospital, explained to the media.
Ectopia cordis sets in during the third week of gestation when mesenchymal tissue, a type of connective tissue in the embyro, starts to cast itself into the form of a sternum, the flat bone that connects the two sides of the rib cage and rests above the heart. Possibly as a result of chromosomal defects, the sternum in these fetuses fails to fuse, leaving their hearts to develop outside their chests.
"We didn't believe it when doctors told us the black patch on our son's belly was his heart until we saw it beating," Xin Xin's father, Luo Rongyun, told the press.
Fetuses with this rare condition are often stillborn or die shortly after birth. Xin Xin is still alive after two months, though, so there appears to be some hope for him. The surgery is extremely complicated, however. "In more mild defects, the chest wall, muscle and skin can be closed to cover the defect in one step. More often, one has to do this in stages, which first involve covering the exposed heart with skin and later re-operating to move bone and muscle to complete the repair of the chest wall," Rosencranz said.
Past success stories offer further encouragement for Xin Xin and his family. Christopher Wall, for example, underwent 15 life-threatening surgeries during his first year-and-a-half of life which attempted to move his heart into his chest. It never quite made it where it needed to be, but he has survived to the age of 35 by wearing a chest plate over his heart. Wall holds a Guinness World Record as the oldest living person with ectopia cordis.
Got a question? Send us an emailThis e-mail address is being protected from spambots. You need JavaScript enabled to view it This e-mail address is being protected from spambots. You need JavaScript enabled to view it This e-mail address is being protected from spambots. You need JavaScript enabled to view it This e-mail address is being protected from spambots. You need JavaScript enabled to view it This e-mail address is being protected from spambots. You need JavaScript enabled to view it This e-mail address is being protected from spambots. You need JavaScript enabled to view it This e-mail address is being protected from spambots. You need JavaScript enabled to view it This e-mail address is being protected from spambots. You need JavaScript enabled to view it This e-mail address is being protected from spambots. You need JavaScript enabled to view it This e-mail address is being protected from spambots. You need JavaScript enabled to view it This e-mail address is being protected from spambots. You need JavaScript enabled to view it This e-mail address is being protected from spambots. You need JavaScript enabled to view it This e-mail address is being protected from spambots. You need JavaScript enabled to view it This e-mail address is being protected from spambots. You need JavaScript enabled to view it This e-mail address is being protected from spambots. You need JavaScript enabled to view it This e-mail address is being protected from spambots. You need JavaScript enabled to view it This e-mail address is being protected from spambots. You need JavaScript enabled to view it This e-mail address is being protected from spambots. You need JavaScript enabled to view it This e-mail address is being protected from spambots. You need JavaScript enabled to view it This e-mail address is being protected from spambots. You need JavaScript enabled to view it This e-mail address is being protected from spambots. You need JavaScript enabled to view it This e-mail address is being protected from spambots. You need JavaScript enabled to view it This e-mail address is being protected from spambots. You need JavaScript enabled to view it This e-mail address is being protected from spambots. You need JavaScript enabled to view it This e-mail address is being protected from spambots. You need JavaScript enabled to view it This e-mail address is being protected from spambots. You need JavaScript enabled to view it This e-mail address is being protected from spambots. You need JavaScript enabled to view it This e-mail address is being protected from spambots. You need JavaScript enabled to view it This e-mail address is being protected from spambots. You need JavaScript enabled to view it and we'll crack itThis e-mail address is being protected from spambots. You need JavaScript enabled to view it . Follow Natalie Wolchover on Twitter @nattyover
Stay up to date on the latest science news by signing up for our Essentials newsletter.
Natalie Wolchover was a staff writer for Live Science from 2010 to 2012 and is currently a senior physics writer and editor for Quanta Magazine. She holds a bachelor's degree in physics from Tufts University and has studied physics at the University of California, Berkeley. Along with the staff of Quanta, Wolchover won the 2022 Pulitzer Prize for explanatory writing for her work on the building of the James Webb Space Telescope. Her work has also appeared in the The Best American Science and Nature Writing and The Best Writing on Mathematics, Nature, The New Yorker and Popular Science. She was the 2016 winner of the Evert Clark/Seth Payne Award, an annual prize for young science journalists, as well as the winner of the 2017 Science Communication Award for the American Institute of Physics.