U.S. Colder, Drier in January, While Globe Warmer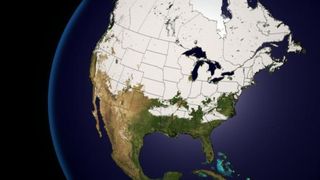 (Image credit: NOAA.)
Pay no attention to the lingering piles of snow left over from last month.
Yes, January was cold but it was actually drier than average across the United States, according to the latest data from the National Climatic Data Center (NCDC).
This past January was the coldest since 1994 across the contiguous United States, with an average January temperature of 30 degrees Fahrenheit (minus 1 degree Celsius). Despite huge winter storms across the country at one point there was snow on the ground in 49 states last month was the ninth-driest January on record for the country.
Based on records that date back to 1895, the U.S. January temperatures were 0.8 degrees F (0.4 degrees C) below the 1901 to 2000 average. Average precipitation across the contiguous United States was 1.48 inches (3.8 centimeters), 0.74 inches (1.9 cm) below the 1901 to 2000 average, according to the NCDC.
While the United States was cold and dry, across the globe January ranked as the 17th-warmest on record, according to the NCDC. The average global temperature for January was 0.68 degrees F (0.35 degrees C) above last century's average of 53.6 degrees F (12 degrees C).
"The pattern of anomalies has landed North America in a cold spot," said John Christy, an atmospheric scientist at the University of Alabama-Huntsville. "We can be cold even though the globe is warm and vice versa."
La Niña, the cold-weather flipside of the El Niño phenomenon, has been blamed for the much of the extreme weather across the globe lately. La Niña brings below-average sea surface temperatures across the equatorial Pacific Ocean (El Niño features warmer-than-average Pacific waters).
This year's La Niña appears to be the strongest on record . But there is more than La Niña going on, said Kevin Trenberth, a climatologist with the University Corporation of Atmospheric Research in Boulder, Colo.
Natural patterns related to other large-scale climate patterns, including possibly the North Atlantic Oscillation, The Northern Annular Mode or the Arctic Oscillation, are also important. The latter has been in a negative phase, which allows polar air to break out and affect other regions while the Arctic becomes relatively mild, Trenberth told OurAmazingPlanet.
Reach OurAmazingPlanet staff writer Brett Israel at bisrael@techmedianetwork.com. Follow him on Twitter @btisrael.
Stay up to date on the latest science news by signing up for our Essentials newsletter.
Brett Israel was a staff writer for Live Science with a focus on environmental issues. He holds a bachelor's degree in biochemistry and molecular biology from The University of Georgia, a master's degree in journalism from New York University, and has studied doctorate-level biochemistry at Emory University.