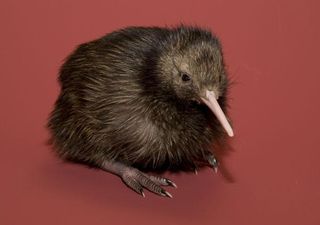 (Image credit: Smithsonian National Zoo)
The Smithsonian National Zoo is giving the public a chance to help decide on a name for one of the zoo's new kiwi chicks, one of the first in the United States to be bred in captivity.
Kiwis (Apteryx mantelli) are small, flightless birds unique to New Zealand. The brown birds dwell on the ground, are nocturnal and have a keen sense of smell.
Kiwis in captivity are extremely rare only four zoos outside of New Zealand have been able to breed the birds. Only nine female brown kiwis exist in North American zoos, and the National Zoo is the only North American zoo to have a successfully breeding female.
The little unnamed chick is actually the second of two born to parents Maori (father) and Nessus (mother).
History was made March 30 in the zoo's bird house when its first female brown kiwi chick emerged from her shell. New Zealand Ambassador to the United States Roy Ferguson named the chick Hiri (pronounced HEE-ree), which means "important and great" in M?ori, the language of the native M?ori peoples of New Zealand.
This youngest chick, hatched early in the morning on June 15. Senior bird keeper Kathleen Brader describes her as outgoing. "She has been fearless in many ways," Brader said.
Today through Oct. 15, kiwi fans around the world can visit the zoo's website to help choose the youngest brown kiwi's name by voting for one of the three nominated, all of which are M?ori.
KoeKoe (koheh-koheh) - meaning "squeak"
Areta (AH-reh-tah) - meaning "of noble kind"
Hahana (HA-ha-nah) - meaning "radiant" or "shine"
Because the father of these two recent chicks was wild-caught, his genes had not yet been represented in North American zoos, making these two chicks genetically valuable if a larger, diverse population of kiwis is going to be established in the United States.
The two chicks can also be observed on the zoo's Kiwi Cam. The winning name will be announced via the Kiwi Cam at 2 p.m. ET and on Facebook and Twitter shortly thereafter.
You can vote at: http://nationalzoo.si.edu/Animals/Birds/Kiwi/namingvote.cfm.
Stay up to date on the latest science news by signing up for our Essentials newsletter.