Tropical Cyclone Zane Aims for Australia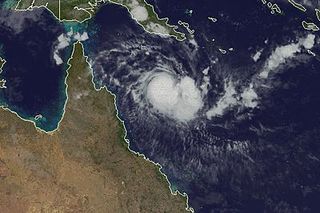 (Image credit: AccuWeather.com)
This article was provided by AccuWeather.com.
Tropical Cyclone Zane formed in the Coral Sea to the northeast of Queensland on Monday and quickly strengthened during the next 24 hours.
Zane currently has tropical storm-force sustained winds but is expected to strengthen further as it approaches the Cape York Peninsula of Queensland Tuesday night into Wednesday.
Winds could reach the equivalent of a Category 2 hurricane before landfall with maximum winds approaching 100 mph (160 kph).
Landfall is expected across the northern half of the Cape York Peninsula, Wednesday night, local time. The main threats will be damaging winds at and near the coast along with flooding rains which can cut some of the small towns of the region off for several days.
The satellite image above shows Zane off the coast of Queensland Tuesday night, local time.
Zane is expected to remain a tropical cyclone, although in a weaker state as it moves farther west into the Gulf of Carpentaria later in the week.
At this point, it appears Zane will likely lose its tropical cyclone status before making another landfall, but enhanced rainfall could lead to some flooding potential across northern third of Northern Territory late in the week.
AccuWeather.com. All rights reserved. More from AccuWeather.com.
The weather is getting stranger, right? Well, for the most part no, scientists say, but humans often think so when a strange event does occur. So here's your chance to prove how much you known about weather oddities.
Weird Weather: One Strange Quiz
Stay up to date on the latest science news by signing up for our Essentials newsletter.