Winter's Last Gasp: April Yields Snow, Cold Records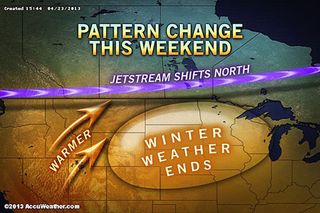 (Image credit: AccuWeather.com)
This article was provided by AccuWeather.com.
A series of April snowstorms has caused many records to fall and extreme temperature swings from Colorado to Minnesota. The latest storm to impact the Plains early this week appears to be the caboose of the storm train with the weather pattern expected to ease.
"There are no more major cold outbreaks in the pipeline," AccuWeather Expert Senior Meteorologist Jim Andrews said. "So, it looks like the end of record-breaking April snowfall and also the extreme temperature swings over the Plains, where it is nearly summery on one day and downright wintry on the next day."
RELATED: AccuWeather Winter Weather Center Forecast Temperature Maps for the U.S. Interactive U.S. Radar
It is still cold in western Canada, and cooler air may still be unleashed over the northern Plains at times into May, according to AccuWeather Lead Long-Range Forecaster Paul Pastelok. However, the temperature swings that occur into May will be more typical of spring compared to the recent extremes.
One sign of the changing pattern is the threat of major flooding along Red River of the northern U.S. as surging warmth this weekend threatens to melt unusually deep late-season snowpack.
"Well, spring in here on the calendar, whether it has been in reality or not. You can only hold back reality for so long. And that reality is that daytime temperatures should be well above freezing in North Dakota and Minnesota. We have held back reality with repeated rounds of cold. The sudden return of reality [this weekend] means that the snow is going to disappear very fast," Andrews said.
"By the end of the week, the normal high in Fargo is 64 degrees, so if it reaches 70 it's not that unusual," Andrews said.
Statistics on the Cold and Snow in the Plains April 2013 A total of 995 daily snowfall records have been broken during the month so far as of April 22, 2013, according to the National Climatic Data Center (NCDC). As a comparison, last year during the same timeframe, 195 snowfall records had been broken.
According to NOAA, 91.9 percent of the Upper Midwest is covered by snow currently, whereas only 0.4 percent of the Upper Midwest was covered by snow on April 23, 2012.
Duluth, Minn., had a record daily snowfall of 8.2 inches on Monday. The old record of 7.8 inches was set in 1972.
April Snow Statistics: The latest storm in Duluth has allowed April to go down in the record books as the snowiest month ever with a total 51.0 inches. Previously, the snowiest month on record for Duluth was November 1991 when 50.1 inches fell. A record April snowfall has been recorded at Pierre, S.D., with 20.8 inches so far this month. The old record April snowfall was 17.5 inches set in 1986. Rapid City, S.D., has received a total of 43.4 inches of snow so far in April. That is more snow than the city typically receives during the entire season, which is 41.4 inches.
Snow and cold made it all the way down into Texas on Tuesday morning.
Childress, Texas, had a high of 92 degrees on Monday before temperatures plunged into the 30s overnight with snow arriving.
AccuWeather.com. All rights reserved. More from AccuWeather.com.
The weather is getting stranger, right? Well, for the most part no, scientists say, but humans often think so when a strange event does occur. So here's your chance to prove how much you known about weather oddities.
Weird Weather: One Strange Quiz
Stay up to date on the latest science news by signing up for our Essentials newsletter.