Big Earthquakes Might Calm the Earth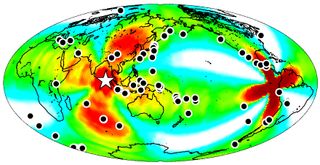 (Image credit: Fred Pollitz, USGS)
The biggest earthquakes make the Earth ring like a bell. But do earthquakes that rock the world increase the risk of new temblors?
Not by much, according to two reports presented today (April 19) at the Seismological Society of America's annual meeting in Salt Lake City. In fact, one recent quake near Sumatra, Indonesia, seemed to actually quiet global earthquakes.
The April 11, 2012, Indian Ocean earthquake was the largest strike-slip shake-up ever recorded. A strike-slip fault moves horizontally, as California's San Andreas Fault does. The magnitude-8.6 quake triggered earthquakes worldwidefor up to six days, said Fred Pollitz, a geophysicist at the U.S. Geological Survey's (USGS) Menlo Park, Calif., office.
But once the triggered quakes stopped, Pollitz was surprised to find a sharp drop in moderate earthquakes for more than three months. Seismic monitors detected no earthquakes bigger than magnitude 6.5 for 95 days. Normally, quakes of this size hit every 10 days, Pollitz said.
"That is quite a rare occurrence," he told OurAmazingPlanet. "The chance of that happening is about 1 in 10,000."
Energetic earthquake
Pollitz thinks the Indian Ocean earthquake's unusually energetic seismic waves, which traveled shallowly through Earth's crust for long distances, could have shifted stresses on faraway faults, delaying earthquakes.
"Usually, these dynamic seismic waves only increase the chance of an earthquake at any distance," Pollitz said. "We've documented, for the first time, that they can also decrease the chance of an earthquake."
Because it doesn't necessarily take a massive earthquake to trigger new shocks — the 2002 Denali, Alaska, earthquake, a magnitude 7.9, set off quakes throughout the northwestern United States — Pollitz wants to comb through past earthquake records in hopes of finding more quiet periods.
"We need to go back and look at these other earthquakes and see if this is a general pattern of a temporary increase and a longer-term decrease," Pollitz said.
Global risk
Although the Indian Ocean earthquake may have had a rare calming effect after some time had passed, it did immediately spark a global furry of quakes, as many massive earthquakes often do. Tom Parsons, a USGS geophysicist also at Menlo Park, wants to know how often dangerously large temblors follow strong earthquakes. [Stunning Map Reveals World's Earthquakes Since 1898]
"Every time we have a magnitude 7 or something larger, should the whole rest of the planet be concerned about the increase in hazard?" Parsons told OurAmazingPlanet.
Parsons analyzed hundreds of earthquakes of at least magnitude 7.0 in the past 30 years. Only 24 of the 260 big earthquakes triggered large earthquakes globally.
The risk of earthquakes bigger than magnitude 5.0 translates to 1 or 2 percent in the hours following a large earthquake, the study found. Parsons and other scientists are looking into why some large earthquakes seem to trigger other temblors and other don't.
"That is far less frequent than anticipated," Parsons said. "It's still in the range of random chance, but it's not a zero chance."
These aftershocks were delayed by up to nine hours compared to their smaller magntiude-2 and magntiude-3 counterparts, which may rupture as soon as 45 minutes after the first big quake.
Email Becky Oskin or follow her @beckyoskin. Follow us @OAPlanet, Facebook & Google+. Original article on LiveScience's OurAmazingPlanet.
Stay up to date on the latest science news by signing up for our Essentials newsletter.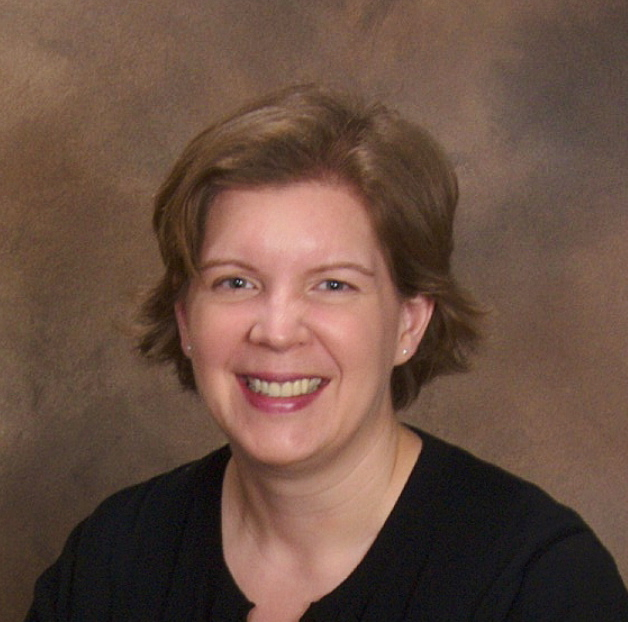 Becky Oskin covers Earth science, climate change and space, as well as general science topics. Becky was a science reporter at Live Science and The Pasadena Star-News; she has freelanced for New Scientist and the American Institute of Physics. She earned a master's degree in geology from Caltech, a bachelor's degree from Washington State University, and a graduate certificate in science writing from the University of California, Santa Cruz.