FDA Lowers Dosages for Popular Sleep Meds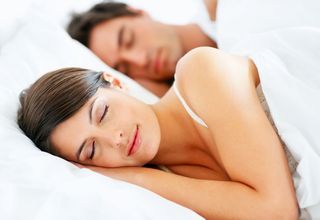 (Image credit: Dreamstime)
For people who need a prescription sleep medicine to help them nod off, less is now more.
The FDA is requiring that manufacturers of widely used prescription sleep aids containing the active ingredient zolpidem lower the current recommended dosage for these medications. The drugs affected are Ambien, Ambien CR, Edluar and Zolpimist as well as the generic forms of Ambien and Ambien CR.
According to the FDA, new data show that blood levels of zolpidem may be high enough the morning after people take a sleep medication to interfere with the ability to perform activities that require them to be alert. Driving-simulation studies suggest that in some people, zolpidem levels may remain elevated enough to raise the risk of a motor vehicle accident.
Bringing down the recommended dosages of the sleep medications will mean blood levels of zolpidem will be lower in the morning. Because women excrete zolpidem from their bodies at a slower rate than men, the FDA has directed manufacturers to lower the recommended dosage for women. The FDA has also informed manufacturers that labeling should advise doctors to consider prescribing lower dosages to men.
The new lower dosage recommendations for women will be 5 milligrams for immediate-release sleep aids — down from 10 mg — and 6.25 mg for extended-release products, down from 12.5 mg, according to the FDA. The labeling should advise doctors to prescribe these same lower dosages — 5 mg for immediate-release sleep aids and 6.25 for extended-release medications — to men. Both the higher and lower dosages are currently available.
"To decrease the potential risk of impairment with all insomnia drugs, healthcare professionals should prescribe, and patients should take, the lowest dose capable of treating a patient's insomnia," Dr. Ellis Unger, director of the FDA's Office of Drug Evaluation, said in a statement. "Patients who must drive in the morning or perform some other activity requiring full alertness should talk to their healthcare professional about whether their sleep medicine is appropriate."
Anyone who is taking the higher dosage of a sleep aid containing zolpidem should speak to their doctor before changing the dosage.
According to the FDA, impairment issues aren't unique to sleep aids containing zolpidem. Drowsiness is a common side effect of any medication used to treat insomnia and people may still experience drowsiness the day after they take one of these sleep aids. Alertness can be affected even if a person does not feel tired.
Pass It On: Lower dosages of popular prescription sleep aids are now recommended.
This story was provided by MyHealthNewsDaily, a sister site to LiveScience. Follow MyHealthNewsDaily on Twitter @MyHealth_MHND. We're also on Facebook & Google+.
Stay up to date on the latest science news by signing up for our Essentials newsletter.