Tropical Cyclone Off Australia Coast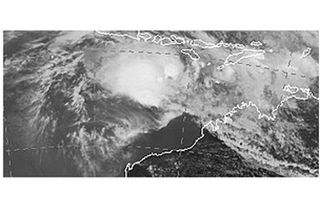 (Image credit: Japan Meteorological Agency)
This article was provided by AccuWeather.com.
The first tropical cyclone of 2013 will move along the northwestern Australia coast with the potential to make landfall.
This weekend, a storm began developing in the Timor Sea off northwestern Australia. Now it has become Tropical Cyclone Narelle, the third of the 2012-13 Australian region cyclone season.
As of the afternoon of Tuesday, Jan. 8, Narelle was reported by the Australian Government Bureau of Meteorology to be 790 km north-northwest of Broome.
As a Category 1 cyclone at the time, the storm was anticipated to intensify in the coming days.
While there was no imminent threat to land, some storm tracks have the storm turning towards the Australian Coast by weeks end.
While rain is possible along the majority of Australia's northwest coast, the greatest threat for both rain and wind will be between the coasts of Port Hedland and Learmount.
Even if the storm does not make landfall, Narelle could impact natural gas and oil companies just offshore.
Natural gas companies operating offshore, especially near Learmount, will likely have increased waves and winds from the cyclone and should monitor this system carefully.
While it is still too far out to determine the exact wind speeds, winds were already expected in excess of 75 km/hr outside the center of the storm late on Tuesday night.
Wind speeds of this magnitude will bring very rough and high seas with a moderate swell. Increased wind intensity is possible up to 200 km/hr for the latter part of the week.
AccuWeather.com. All rights reserved. More from AccuWeather.com.
The only sure thing about weather forecasts is that they're wildly different all over the planet. Test your knowledge on the wild ranges in temperature, precipitation and more.
Extreme Weather Facts: Quiz Yourself
Stay up to date on the latest science news by signing up for our Essentials newsletter.