Curious Spiral Spotted by ALMA Around Red Giant Star R Sculptoris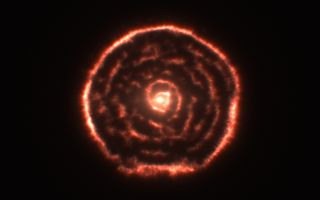 (Image credit: ALMA (ESO/NAOJ/NRAO))
Observations using the Atacama Large Millimeter/submillimeter Array (ALMA) have revealed an unexpected spiral structure in the material around the old star R Sculptoris. This feature has never been seen before and is probably caused by a hidden companion star orbiting the star. This slice through the new ALMA data reveals the shell around the star, which shows up as the outer circular ring, as well as a very clear spiral structure in the inner material.
Stay up to date on the latest science news by signing up for our Essentials newsletter.
Space.com is the premier source of space exploration, innovation and astronomy news, chronicling (and celebrating) humanity's ongoing expansion across the final frontier. We transport our visitors across the solar system and beyond through accessible, comprehensive coverage of the latest news and discoveries. For us, exploring space is as much about the journey as it is the destination.