Demand for Horn Fuels Record-High Rhino Poaching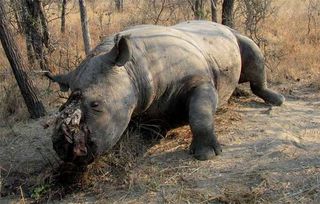 (Image credit: Lowveld Trust.)
A rhino poaching crisis in South Africa is fed by an insatiable demand in Vietnam for the large animals' horns, which are believed to promote health, cure hangovers and even cancer, according to a new report.
In South Africa, more and more rhinos are being killed illegally. In 2007, 13 rhinos were poached, this number rose steadily to a record 448 in 2011. In early 2012, rhinos were being poached at a rate of almost two rhinos per day, and officials expect the total loss to stand at 515 by the end of this year if the rate continues, according to TRAFFIC, a nongovernmental global network that monitors wildlife trade, which issued the report.
Arrests are rising too, but organized crime is involved, TRAFFIC reports. The crime syndicates involved in rhino poaching are also linked to drug and diamond smuggling, as well as human trafficking and the illegal trade in other wildlife parts, such as elephant ivory, the report says.
The demand for the horn has prompted those who want it to attempt to exploit legal sport hunts for rhinoceros, according to the report, which notes that earlier this year South Africa attempted to address this problem by suspending the issuance of hunting licenses to Vietnamese nationals, and introducing other changes. However, rhino traders are attempting to circumvent these changes, TRAFFIC reports.
Meanwhile, criminals have begun looking elsewhere for horns. In recent years at least 65 horns on display in South Africa have been stolen, as have others in the United States and Europe, TRAFFIC reports. [Images from a Rhino Bust]
"However, with the surging demand from Asia, people willing to pay high prices to get their hands on rhino horn, and little fear of capture by those smuggling horn, it was perhaps inevitable that this 'commodity' would catch the attention of the hardened criminal fraternity, creating a 'perfect storm' for rhino poaching and horn trade," said Jo Shaw, a program officer with TRAFFIC and a co-author of the report, in a statement.
Vietnam provides the main market for horn. The primary users are those who believe in the horn's detoxification properties, the report says. Affluent users frequently use the horn as a hangover cure and general health tonic, grinding it up and mixing it with water or alcohol.
The horn is also sometimes marketed as a cancer cure for terminally ill patients, "a cynical marketing ploy to increase the illicit trade," according to TRAFFIC.
"The surge in rhino horn demand from Viet Nam has nothing to do with meeting traditional medicine needs, it's to supply a recreational drug to party goers or to con dying cancer patients out of their cash for a miracle rhino horn cure that will never happen," said Tom Milliken, a rhino expert with TRAFFIC, and a co-author of the report.
Poaching has already had grave consequences for rhinos. In the last decade, the western black rhino went extinct and the Indochinese Javan rhinoceros was eradicated from Vietnam, with fewer than 50 individuals remaining in Java.
The 175-nation treaty, the Convention on International Trade in Endangered Species of Wild Fauna and Flora, makes nearly all commercial trade in rhino horns and other species threatened with extinction illegal. Signatories also committed to regulating trade within their borders.
The report is called The South Africa—Vietnam Rhino Horn Trade Nexus. TRAFFIC is a joint program of the World Wildlife Fund and the International Union for the Conservation of Nature.
Follow LiveScience on Twitter @livescience. We're also on Facebook & Google+.
Stay up to date on the latest science news by signing up for our Essentials newsletter.
Wynne was a reporter at The Stamford Advocate. She has interned at Discover magazine and has freelanced for The New York Times and Scientific American's web site. She has a masters in journalism from Columbia University and a bachelor's degree in biology from the University of Utah.