Antiques Dealer Caught in Rhino Horn Sting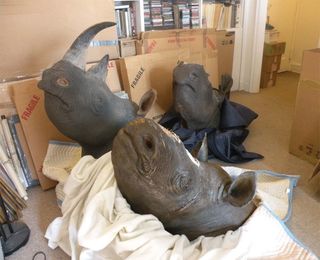 (Image credit: United States Attorney's Office)
An antiques dealer has admitted interfering with an investigation into the illegal sale of rhino horns, the Manhattan U.S. Attorney's Office said Wednesday (Aug. 1), describing how the dealer used a pair of fake horns to try to double-cross investigators at one point.
David Hausman pretended to aid the probe into the illegal sale of a black rhinoceros' head and instead tried to buy the head for himself, U.S. Attorney for the Southern District of New York Preet Bharara said in a statement.
In a plea deal, Hausman, 67, admitted in federal court on Wednesday (Aug. 1) to obstruction of justice and falsification of records in relation to the sale of the head of another black rhino. [See photos from the bust]
According to a court document, Hausman alerted the U.S. Fish and Wildlife Service in December 2010 that a taxidermied two-horned head had been illegally sold by a Pennsylvania auction house. However, when he learned the sale was not finalized, Hausman enlisted the help of a collaborator to covertly purchase the head. To keep investigators in the dark, Hausman made a pair of fake but realistic-looking horns, mailed them to the collaborator and asked her to attach them to the rhino head. [Faux Real: A Gallery of Forgeries]
But this wasn't the only incident, the court document recounts:
In September 2011, Hausman sought to purchase a different two-horned, black rhino head from an undercover federal agent posing as a seller. Before purchasing it, Hausman directed the seller to falsify documents to make the sale appear legal.
Not all sales of rhino horns are illegal in the United States; it is legal to sell horns as antiques when they are over a century old. However, Bharara's office said Hausman believed this head was 20 to 30 years old, and he asked the seller to create a document stating the head was older than 100 years.
After watching Hausman buy the black rhino head at a truck stop in Princeton, Ill., federal agents followed him and saw him sawing off the horns in a motel parking lot, the U.S. Attorney's Office said.
When agents raided his Manhattan apartment in February of 2012, they found four mounted rhino heads, including three with no horns and one with fake horns, as well as three sets of horns and several items carved and partially carved from horn, the court document states.
The U.S. Attorney's Office and Ignacia Moreno, assistant attorney general for the Environment and Natural Resources Division of the Department of Justice, handled the case.
The international black market is a serious threat to rhinos, large plant-eaters that live in Africa and Asia. Poaching is the main threat to the black rhinoceros, according to the International Union for Conservation of Nature and Natural Resources, which lists that species as critically endangered. A relative, the western black rhino, is now extinct.
The Convention on International Trade in Endangered Species of Wild Fauna and Flora, a treaty signed by 175 nations, prohibits nearly all commercial trade in rhino horns and parts of other species threatened with extinction. In addition, signatories, which include the United States, have committed to regulating trade within their borders.
This arrest was part of Operation Crash, a crackdown on the illegal trade of rhino horn in the United States.
Follow Wynne Parry on Twitter @Wynne_ParryorLiveScience @livescience. We're also on Facebook & Google+.
Stay up to date on the latest science news by signing up for our Essentials newsletter.
Wynne was a reporter at The Stamford Advocate. She has interned at Discover magazine and has freelanced for The New York Times and Scientific American's web site. She has a masters in journalism from Columbia University and a bachelor's degree in biology from the University of Utah.