Crazy New Cell Phone: Big and Stationary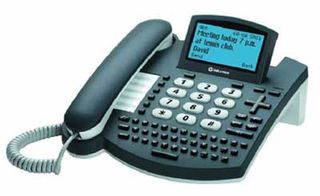 (Image credit: Wright-Wellis Enterprises)
The latest thing in cell phones is a great big, AC-powered desktop model that's about as portable as the average printer.
That's right, for $379.95 you can own the MaxxPhone, which happens to be a cell phone but sits on your desk.
It's retro, and it's useful.
MaxxPhone sports all the pushbuttons, bells and whistles you'd expect from a fancy office phone. This includes a full keyboard so you don't have to wear out your thumbs sending text messages, and a digital display large enough for use by non-teenagers with tired eyesight.
GSM only
The unit is a European import offered by Wright-Wellis Enterprises in Swanton, VT. Its head, Paul Wright, described himself as a Czech-American whose phone number rings in Prague.
The unit, Wright said, runs on any GSM network, which includes AT&T and T-Mobile, but excludes Verizon and Sprint.
The buyer would take the SIM card out of a subscription or prepaid phone from a GSM network and slide it into the MaxxPhone, he explained. The unit comes with a two-year warranty and documentation in English, and the units are shipped from Vermont.
Retro retro
Retro is hardly new in the landline phone market.
For instance, the Crosley Radio Corp. of Louisville, KY, offers wall phones (with modern circuitry) with a pre-war look — pre World War I, that is. There are also candlestick phones for those who want to update to the Roaring '20s and pay phones from the '50s for those who have felt out of place since the Eisenhower Administration.
Crosley also sells a bizarre machine with a flat, round spinning surface where you're supposed to position a thin vinyl platter that's been scratched in a spiral pattern. Supposedly, it makes music.
Quiz: Great Inventions
Top 10 Emerging Environmental Technologies
Stay up to date on the latest science news by signing up for our Essentials newsletter.