Against the Arapaima, the Piranha Scores but Doesn't Win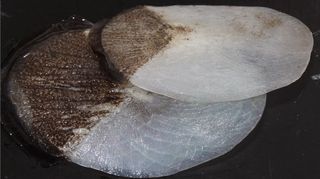 (Image credit: Jacobs School of Engineering at UC San Diego)
This Research in Action article was provided to LiveScience in partnership with the National Science Foundation.
It's a match-up worthy of a late-night cable movie: Put a school of starving piranha and a 300-pound (130 kilogram) fish together, and who comes out the winner?
The surprising answer, given the notorious guillotine-like bite of the piranha, is Brazil's massive arapaima fish. The secret to the arapaima's success lies in its intricate scales, pictured above. The scales could provide bio-inspiration for engineers looking to develop flexible ceramics, and they could lead to new kinds of tough, flexible body armor. Other possible applications include fuel cells, insulation and aerospace designs.
The inspiration for this study came during an expedition to the Amazon basin that Marc Meyers, a professor at the Jacobs School of Engineering at the University of California, San Diego, took years ago. The mechanical and aerospace engineering professor wondered at the arapaima's protective scales. How could it live in piranha-infested lakes, where few other animals could survive?
In the lab, Meyers and colleagues pitted "piranha" against "arapaima" using a machine that resembles an industrial-strength hole punch. They attached piranha teeth to the top punch, embedded the arapaima scales in a softer, rubber surface on the bottom (mimicking the soft, underlying muscle on the fish), and pressed. [See images of the piranha versus arapaima experiment]
The teeth partially penetrated the scale, but cracked before they could puncture the muscle. Meyers and colleagues presented the findings in the journal Advanced Biomaterials.
The arapaima scale combines a heavily mineralized outer layer with an internal design that helps the scale resist the piranha's razor-like bite. The mix of materials is similar to the hard enamel deposited over softer, calcified tissue — dentin — in teeth, said Meyers.
In some respects, the field of biomimetics is a return to the roots of manufacturing, Meyers suggested, when early humans crafted from leather, bone and wood.
"We've produced materials with much higher performance, but we're reaching the limit with synthetic materials," he said. "Now, we are looking back at those natural materials and asking, 'How does nature put these things together?'"
Editor's Note: Any opinions, findings, and conclusions or recommendations expressed in this material are those of the author and do not necessarily reflect the views of the National Science Foundation. See the Research in Action archive.
Stay up to date on the latest science news by signing up for our Essentials newsletter.