Artist's Concept of Kepler-20f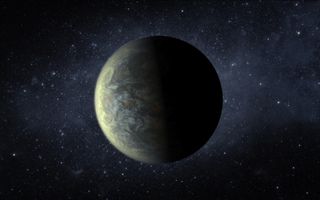 (Image credit: NASA/Ames/JPL-Caltech)
NASA's Kepler mission has discovered the first Earth-size planets orbiting a sun-like star outside our solar system. The planets, called Kepler-20e and Kepler-20f, are too close to their star to be in the so-called habitable zone where liquid water could exist on a planet's surface, but they are the smallest exoplanets ever confirmed around a star like our sun.Kepler-20f is the closest object to the Earth in terms of size ever discovered. With an orbital period of 20 days and a surface temperature of 800 degrees Fahrenheit, it is too hot to host life, as we know it.
Stay up to date on the latest science news by signing up for our Essentials newsletter.
Space.com is the premier source of space exploration, innovation and astronomy news, chronicling (and celebrating) humanity's ongoing expansion across the final frontier. We transport our visitors across the solar system and beyond through accessible, comprehensive coverage of the latest news and discoveries. For us, exploring space is as much about the journey as it is the destination.