Why Japan's Typhoon Talas Was So Deadly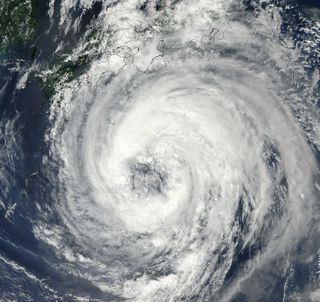 (Image credit: NASA.)
Typhoon Talas, a storm that swept across Japan over the weekend, has taken a terrible toll; the storm and its lingering effects have so far killed 47 people, with 54 still missing. Much of the death and destruction is concentrated in three provinces in the island nation's southwest.
So how did the storm, as some news outlets have reported, become the deadliest in seven years for the country? Several factors, some on the ground, and some in the sky, conspired to lend the deadly force to the typhoon — the term for hurricanes in the Pacific Ocean, according to meteorologists.
Much of the devastation in Japan is the result of record-breaking rains, which caused deadly floods and landslides. [Top 10 Deadliest Natural Disasters in History]
'Insane amount of rain'
Talas was a massive storm, and took its time moving across the island, said Rob Gutro, a meteorologist and manager of NASA's hurricane page, two of the reasons parts of Japan were lashed with so much rain.
"If you've got a 420-mile-wide [675 kilometers] storm, and it's moving at 11 mph [18 kph], which is on the slow edge of speed for a tropical storm, it's going to take a long time to get across that island," Gutro said.
In one area, Talas dropped 65 inches (165 centimeters) of rain in 72 hours, a new record for the country, according to the Japan Meteorological Agency.
"That's an insane amount of rain," said Stephen Lang, a research meteorologist with research firm SSAI and NASA's Goddard Space Flight Center in Greenbelt, Md.
Even though the storm was huge when it made landfall in Japan, it had weakened somewhat, but even weak storms can drop a lot of rain, Lang said.
"The correlation between rainfall and the intensity of the storm isn't that great," he said, "it's how fast a storm is moving. So you could have a weaker tropical storm drop a whole lot more rain than an intense hurricane if the hurricane is moving more quickly."
Mountains and mudslides
In addition, the mountainous topography of the area that was worst affected may have further exacerbated bad conditions for the people living there.
When tropical storms pass over mountainous terrain, they typically produce more rain, said Robert Adler, an atmospheric scientist at the University of Maryland.
"If the air is going upslope, you get even more rain than if it were going over flat ground," Adler told OurAmazingPlanet. "And then going over a slope, that increased amount of rainfall has an even higher probability of producing a landslide," he said.
In addition to the way terrain may have magnified the storm's tragic effects, Gutro said Japan appears to have lain directly in the path of Talas' wettest region.
"The area that had the heaviest rainfall was the entire northern quadrant of the storm, which is what ran aground on Japan," Gutro said. This was the same storm area that soaked many of the Mid-Atlantic and New England states when Hurricane Irene moved through the area a little more than a week ago.
Andrea Mustain is a staff writer for OurAmazingPlanet, a sister site to Live Science. Reach her at amustain@techmedianetwork.com. Follow her on Twitter @AndreaMustain.
Stay up to date on the latest science news by signing up for our Essentials newsletter.
Andrea Mustain was a staff writer for Live Science from 2010 to 2012. She holds a B.S. degree from Northwestern University and an M.S. degree in broadcast journalism from Columbia University.