Miniature Robot to Power Through the Spine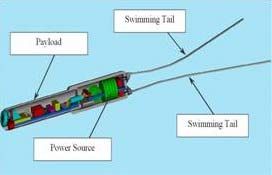 (Image credit: Technion)
In the 1966 film "Fantastic Voyage," a full-size underwater vehicle was shrunk to microscopic size and injected into the blood vessels of a person. Now, a team headed by Dr. Moshe Shoham of Haifa's Technion has created a novel propulsion system for a miniature robot to travel through the spinal canal, powering through cerebrospinal fluid. Dr. Shoham is also the primary developer of the SpineAssist robot to aid surgeons in performing delicate spinal procedures (see SpineAssist Robot Has Got Your Back).
The requirements for a robot that moves through body cavities are strict; it must be small enough to move through the body and it must have a propulsion system that is flexible enough to work. Devices like the PillCam, a pill-shaped camera that is swallowed to picture the complete digestive tract, are moved along by the body's own peristalsis, and do not need their own propulsion system.
The robot would in essence be a free-swimming endoscope; a robot with two actuators—swimming tails—that will have a camera in the head to broadcast images to the physician outside (see diagram).
Shoham estimates that it will take several more years to complete the design of the robot's payload and to further miniaturize the design. He remarks:
Interested in medical robots?
Found this one on medGadget.
(This Science Fiction in the News story used with permission from Technovelgy.com —where science meets fiction.)
Stay up to date on the latest science news by signing up for our Essentials newsletter.
Bill Christensen catalogues the inventions, technology and ideas of science fiction writers at his website, Technovelgy. He is a contributor to Live Science.