More Disaster for Haiti: With Tomas, Landslide Danger Looms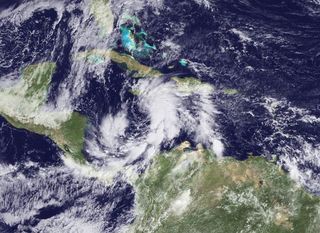 (Image credit: NOAA.)
Tropical Storm Tomas is heading toward Haiti, and forecasters are predicting heavy rains for the earthquake-ravaged island nation. The heavy rainfall could trigger dangerous landslides in a country still reeling from a string of disasters.
"Haiti has a really serious history of big landslides, almost all of them caused by tropical storm or hurricane rainfall," said geologist David Petley, the Wilson Professor of Hazard and Risk at Durham University in England.
Petley said the 7.0-magnitude earthquake that struck the impoverished nation in January has only increased the risk of landslides in a country where such disasters have killed thousands in the past. The earthquake itself triggered landslides that generated small, local tsunamis.
The violent shaking of the ground during an earthquake loosens the soil, Petley told OurAmazingPlanet, so the first intense rainfall can, in turn, weaken the soil further, until the ground finally succumbs to the pull of gravity, sending massive flows of debris roaring down hillsides and slopes.
The latest update from the National Hurricane Center (NHC) in Miami, Fla., places Tomas on a path just to Haiti's west, but even though the center of the storm may not pass over the country, the weather is likely to turn ugly.
"Haiti will certainly be impacted by torrential rains, particularly in the mountainous areas," said NHC spokesman Dennis Feltgen. "Most of the rain will likely occur tonight and into tomorrow morning," he said.
Tomas is forecasted to strengthen, Feltgen said, and could become a Category 1 hurricane by Friday (Nov. 5) morning.
The timing could not be worse for the more than one million Haitians left homeless by the January earthquake and still living in temporary dwellings.
Petley said that landslides typically occur during the most intense rainfall of a storm.
In addition, the noisy, chaotic conditions produced by tropical storms make it more difficult to know when a landslide is coming, because they camouflage the roar of an approaching wall of mud and rock. "At night it's even harder," Petley said, "so whether the storm hits in the day or at night makes a big difference for the final outcome."
Aid agencies in Haiti are bracing for the coming storm, which is already complicating efforts to control the current cholera outbreak now affecting parts of the country, according to Christian relief organization World Vision, which has mobilized a rapid-response team to prepare for Tomas.
Petley said that populations in low-lying areas and living on slopes are in the greatest danger if landslides do occur, and that the best way to prepare would be to move to higher ground and away from hillsides.
"It's really very difficult to predict what's going to happen now," Petley said, "but the risks are substantial. Our experience elsewhere is that lots of rain in areas that have had earthquakes leads to lots of landslides, so that's a reason to be very cautious in this case."
This article was provided by OurAmazingPlanet, a sister site to LiveScience.
Stay up to date on the latest science news by signing up for our Essentials newsletter.
Andrea Mustain was a staff writer for Live Science from 2010 to 2012. She holds a B.S. degree from Northwestern University and an M.S. degree in broadcast journalism from Columbia University.