Looking for a laptop to help you blow through work tasks and play games when the day is done? Then this deal is for you.
We're always on the lookout for outstanding student laptop deals, but every now and then a deal comes in that makes us reassess what the best student laptops really is. They need to portable, sure, but why can't they be powerful, too? Student laptops should always be more affordable, but there's always room for a little extravagance.
ASUS' Republic of Gaming sub-brand is offering the best of both worlds right now, with a steep discount on the ASUS ROG Zephyrus 14-inch laptop. Best Buy is offering the powerful ASUS ROG Zephyrus 14 for just $1099.99 (opens in new tab) - that's $550 off of the MSRP. This is the 2022 model too, so you're getting the most up-to-date hardware.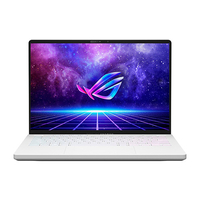 (opens in new tab)
ASUS ROG Zephyrus 14 (2022) - was $1649.99, now $1099.99 at Best Buy (opens in new tab)
Save $550 (33%) on this powerful laptop with a striking design and an AMD Radeon RX 6700S GPU inside. This is the cheapest we've seen this model, and we think it's great value for money.
The ASUS ROG Zephyrus 14, as the name suggests, comes packing a 14-inch display. Not only does it offer a 2560x1600 resolution, but it has a refresh rate of 120Hz, too, and a peak brightness of 500 nits.
It looks great, too, with a comfortably spaced keyboard, a quartet of multimedia keys, and the ability to fold completely back so the display is almost in line with the keyboard base.
Still, it's what's inside that counts, and the AMD Radeon RX 6700S is the standout draw here, with the powerful GPU more than capable of running the latest games on the go or assisting with demanding creative work. Couple that with 1TB of SSD storage and 16GB of RAM and you have a powerful, portable workstation. Whether you just want a general purpose machine that can handle some games, or you need one of the best laptops for coding or photo editing, we think this is a great choice.