'Ring of fire' solar eclipse 2023: How to watch in-person (and virtually)
On Oct. 14, an epic 'ring of fire' annular solar eclipse will swoop across North America, providing once-in-a-lifetime views for several states. Here's how to watch, no matter where you are.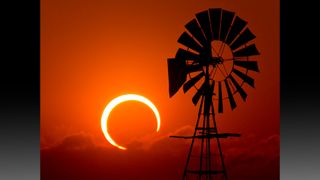 (Image credit: Getty Images)
A "ring of fire," or annular solar eclipse, will be visible from eight US states on Oct. 14, 2023 — the first time such a celestial view was available in North America. During the event, sky-watchers across North, Central and South America will see a partial solar eclipse lasting about three hours, but only within a narrow path will the ring be visible — and only for a few minutes.
An annular solar eclipse is different from a total solar eclipse, one of which will occur on April 8, 2024, in Mexico, the U.S. and Canada.
"They are two completely different experiences," Jayne Aubele, Senior Educator at the New Mexico Museum of Natural History & Science, said in a YouTube video about the upcoming eclipse. "With an annular, you don't get darkness, cooler temperatures or the 'black hole sun' effect, but what you do get is a 'ring of fire' that's remarkable in its own right."
An annular solar eclipse is a result of the moon appearing to cross the sun while being slightly farther from the Earth in its elliptical orbit.
During this eclipse the moon will cover up to 91% of the sun, but never the entire thing — so everyone will need to wear solar eclipse glasses at every stage of the event.
The narrow path of annularity begins in Oregon and crosses Northern California, Nevada, Utah, northeastern Arizona, southwestern Colorado, New Mexico and Texas before moving across Mexico's Yucatan Peninsula, Belize, Honduras, Nicaragua, Panama, Colombia and Brazil.
To see the "ring of fire" — for a maximum of between 4 minutes 29 seconds and 4 minutes 52 seconds in the US — means being inside the 125 to 137 mile-wide (201 to 220 kilometers) "path of annularity".
"It matters where you are across the path — being close to the center gives you a longer duration than if you're at the edge," Angela Speck, an astronomer at the University of Texas, San Antonio, and AAS Solar Eclipse Task Force said in the YouTube video.
The longest "ring of fire" will be seen from Padre Island on the Texas coast. Those standing on the southern or northern borders of the path will get a mere flash of annularity for a second, though only from those locations will it be possible to see Baily's beads, or arcs of shimmering light seen during total and annular eclipses, fizzing around the limb of the moon.
The path of the eclipse crosses many remote parts of the US Southwest packed with US National Parks and State Parks, such as Crater Lake in Oregon, Great Basin in Nevada and Bryce Canyon in Utah. The biggest cities it crosses will be Albuquerque, New Mexico (where it coincides with the last day of the annual Albuquerque International Balloon Fiesta) and San Antonio, Texas.
The Southwest cools down in mid-October, particularly at night. Much of the path through Utah runs across the Colorado Plateau, the mile-high ground where the air is thin and doesn't retain much heat beyond sunset. If you're planning a trip, then pack warm gear for chilly evenings.
Those unable to get to the path to see the "'ring of fire"' will have plenty of webcasts to choose from including San Francisco's Exploratorium and the ever-reliable www.timeanddate.com, both of which have confirmed livestreams.
Stay up to date on the latest science news by signing up for our Essentials newsletter.
Jamie Carter is a freelance journalist and regular Live Science contributor based in Cardiff, U.K. He is the author of A Stargazing Program For Beginners and lectures on astronomy and the natural world. Jamie regularly writes for Space.com, TechRadar.com, Forbes Science, BBC Wildlife magazine and Scientific American, and many others. He edits WhenIsTheNextEclipse.com.