Controversial 'vaginal seeding' shows promise in small trial, but questions remain
"Vaginal seeding" may help restore the gut microbiome of cesarean-born babies, a small trial suggests. However, the practice isn't currently recommended by leading experts and previous studies have warned of its potential safety risks.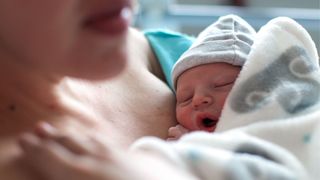 (Image credit: Petri Oeschger via Getty Images)
"Vaginal seeding," a controversial practice of exposing babies born by cesarean section to their parent's vaginal fluids after birth, may benefit newborns' gut microbiomes, a new study suggests.
Babies born by C-section don't have the same gut microbes as those born vaginally, potentially because they're not exposed to their parent's vaginal microbiome during birth. Studies have shown that the gut microbiomes of cesarean-born newborns more closely resemble the communities of microbes that typically inhabit the skin, rather than the gut. This has raised questions about how birth methods affect babies' development, given evidence that the community of microbes in the intestines, or gut microbiota, shapes the brain and immune system in early life.
Studies have linked cesarean births to a higher risk of neurodevelopmental disorders, early-life infections, allergies, inflammatory diseases and metabolic diseases, and some suspect that differences in gut microbiota may contribute to this risk.
The new study, published June 15 in the journal Cell Host & Microbe, suggests that vaginal microbiota transfer (VMT), also known as vaginal seeding, is likely a safe and effective method of restoring the gut microbiome in cesarean-born infants so that it resembles that of vaginally delivered babies.
Related: Signs of labor: 6 clues baby is on the way
The results also hint that vaginal seeding could improve neurodevelopment in cesarean-born infants, the study authors reported. However, due to the study's small size, this potential relationship between vaginal seeding and neurodevelopment would need to be confirmed in further studies.
While vaginal seeding has become increasingly popular in the U.S., it remains controversial due to limited research on its safety and benefits. The American College of Obstetricians and Gynecologists does not recommend vaginal seeding outside the realm of research until sufficient data are available to support the practice.
The idea of restoring the gut microbiota of cesarean-born infants emerged several years ago, and vaginal seeding was proposed as a method of doing this in a 2016 paper in the journal Nature Medicine. It involves inserting a sterile gauze into the vagina before delivery, exposing it to the vaginal microbiome, and then wiping the gauze over the baby's mouth and face after birth.
Research into vaginal seeding is scant, although a recent small observational study suggested that vaginal seeding can restore the microbiota of babies born by C-section. This study included 30 infants who underwent vaginal seeding but could not definitively establish a cause-and-effect relationship between vaginal seeding and microbiota differences.
Some experts, however, have warned of the potential dangers of vaginal seeding, such as potentially exposing babies to harmful bacteria. A 2018 study even suggested that the differences in the microbiomes of cesarean- and vaginally born babies might be due to the antibiotics administered before C-sections, which can cross the placenta, rather than the babies' lack of exposure to the vaginal microbiome.
Related: Scientists invent 1st 'vagina-on-a-chip'
To establish the potential safety and benefit of vaginal seeding, researchers across multiple institutions in China conducted a clinical trial that included 68 pregnant women scheduled for C-sections. Around half of the women's babies were exposed to a gauze that contained the vaginal fluids of their mother, and the other half were exposed to a sterile saline gauze.
The incidence of adverse events in the first 42 days after birth was similar in both groups of babies, indicating that vaginal seeding is safe. The most common adverse events were mild skin disorders, including redness and blister-like sores; none of these events could be attributed to vaginal seeding.
The babies' gut microbiota were sampled at several points after birth, and an analysis showed that gut microbiota in the babies in the vaginal seeding group moved faster from "stunted" types to "mature" types, compared with the microbiota of the control group.
For comparison, the team also studied the microbiomes of 33 vaginally born babies. The results showed that babies who had undergone vaginal seeding had gut microbiota that more closely resembled that of the vaginally delivered group.
The team also found that infant neurodevelopment at six months, as measured by scores on a common developmental screening questionnaire, was significantly higher for babies exposed to vaginal fluids compared with those exposed to saline, suggesting that vaginal seeding could improve neurodevelopment in cesarean-born babies. However, inferences about any potential long-term impact of vaginal seeding on neurodevelopment cannot be made since the study only measured out to six months.
Stay up to date on the latest science news by signing up for our Essentials newsletter.
Sarah Moore is a freelance science writer. She has an MSc in neuroscience and a BSc in psychology from Goldsmiths College, University of London. Sarah has experience in academic research and has worked in medical communications with top pharmaceutical companies. As a freelancer, she has contributed work to a wide range of publications. Sarah loves to write on all areas of science, from healthcare to nanotechnology but she is especially intrigued by the workings of the human brain.