A metal detectorist in Wales discovered an 'adorable' ox-headed bowl. It could reveal a lost Roman settlement.
A metal detectorist stumbled upon a hoard of Roman coins and Iron Age vessels in the Welsh countryside.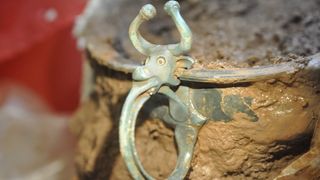 (Image credit: National Museum Wales)
A metal detectorist in Wales stumbled upon a stockpile of artifacts that includes Iron Age vessels, Roman coins and a once-in-a-lifetime find: a bowl with a handle crafted to look like an "adorable" ox head.
The finds, which the U.K. government declared "treasure" on April 28, were located in 2019 by Jon Matthews while he was exploring a pasture in Monmouthshire, a county in southeast Wales. After discovering the cache, which he described as "true beauty," Matthews contacted a group of local officials to continue exploring the area, according to Wales Online.
"I feel honored to have found something so unique that is linked to Wales and our ancestors," Matthews said in a statement from Amgueddfa Cymru — Museum Wales.
The trove contained a number of vessels dating to the Iron Age (750 B.C. to A.D. 43), including two wooden tankards, a bucket with copper alloy fittings, a bowl with a metal handle in the shape of an ox's head (complete with intact horns), a cauldron and a strainer.
There were also some Roman artifacts, including two copper alloy saucepans that may have been buried during the A.D. 43 conquest launched by Rome's fourth emperor, Claudius, according to the statement. This was a tumultuous time in England and it's possible that locals may have buried their valuables as the Romans infiltrated the area.
The site also revealed a hoard of Roman coins and two silver artifacts from the 17th century, according to the statement.
Adelle Bricking, an archaeology curator at National Museum Cardiff in Wales, described the finding on May 5 via Twitter.
Related: Treasure hunter finds gold hoard buried by Iron Age chieftain
"We named the ox Bovril," Bricking wrote in the post. "With [Matthews'] help, we excavated what turned out to be a rather confusing vessel hoard. When the tips of these horns started to emerge, we thought…penannular brooch? Maybe? Imagine our surprise when we flicked off the mud and exposed Bovril's adorable little face."
An additional cache, which included copper alloy coins from the third and fourth centuries A.D., was found in the nearby village of Caerwent between 2014 and 2022 by metal detectorists Colin Price and Rhys Cadwallader, according to the statement.
Experts think the multiple Roman finds may "suggest a previously undiscovered settlement in the area," according to Wales Online.
"The discovery of two coin hoards in the same field and in the general vicinity of the Roman town at Caerwent is exciting and significant," Alastair Willis, a senior curator at National Museum Wales, said in the statement. "The discoveries are also important for understanding events happening in southeast Wales around the time when the Romans left."

National Museum Wales has shown interest in acquiring the artifacts, according to the statement.
Stay up to date on the latest science news by signing up for our Essentials newsletter.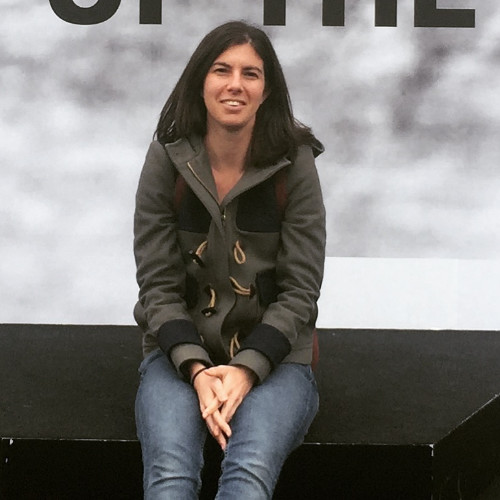 Live Science Staff Writer
Jennifer Nalewicki is a Salt Lake City-based journalist whose work has been featured in The New York Times, Smithsonian Magazine, Scientific American, Popular Mechanics and more. She covers several science topics from planet Earth to paleontology and archaeology to health and culture. Prior to freelancing, Jennifer held an Editor role at Time Inc. Jennifer has a bachelor's degree in Journalism from The University of Texas at Austin.