Housing for Katrina Victims: Ideas from Science Fiction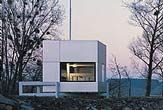 In the wake of hurricane Katrina, and the flooding of New Orleans, hundreds of thousands of survivors have been left homeless -- probably for many months. Large areas have been devastated, without any services. Readers wrote in suggesting that perhaps science fiction writers had some ideas that could be of practical use, given that these writers had imagined devastation on an even greater scale in many books and stories.
Easily errected temporary quarters should be first on the list.
Robert Heinlein, wrote about knockdown cabins before World War II, gave us the Quonset hut. Government procurers should be scouring military bases for similar items for rapid deployment in the affected states.
In his 1992 novel Snow Crash, Neal Stephenson writes about the U-Stor-It apartment:
Storage places like these are always partially empty; perhaps the additional units could be rented for the next six months by the government.
In his 1998 novel Idoru, William Gibson wrote about the micro-bachelor:
There have been a lot of complaints about traffic in the newly crowded cities of Houston and Baton Rouge. Encourage car pooling, and then temporarily convert parking structures to housing -- killing two birds with one stone.
There is an interesting analog to the U-Stor-It "apartment" that is a real product -- the Quik House, a prefabricated kit house made from recycled shipping containers. The basic model has three bedrooms and two and one-half baths in 2,000 square feet.
The port of Houston handles more foreign tonnage than any other American port; they must have many hundreds of empty containers awaiting use.
Another futuristic product, the m-ch Micro Compact Home, is a 2.6-meter cube that provides a double bed on an upper level and working table and dining space for four or five people on a lower level. The kitchen bar is arranged to serve these two levels. The m-ch is built complete and can be placed anywhere on a level site.
Finally (and as a last resort), John Brunner wrote about paid-avoidance zones in his 1975 novel Shockwave Rider. In the novel, the Great Bay Quake had finally happened in California; the scale of the disaster was too great for even the government to handle. So the government set aside particular areas that would never receive any more than basic services -- electricity and water -- period. And each resident was paid a small stipend to forego modern living.
Thanks to the readers who wrote in with suggestions for this topic.
(This Science Fiction in the News story used with permission from Technovelgy.com - where science meets fiction.)
Stay up to date on the latest science news by signing up for our Essentials newsletter.
Bill Christensen catalogues the inventions, technology and ideas of science fiction writers at his website, Technovelgy. He is a contributor to Live Science.