Climate Talks Should Include Health Impacts, Docs Say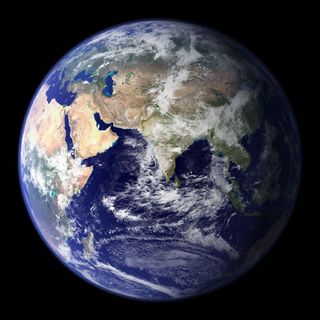 As leaders from around the world convene this week in Cancun, Mexico, to figure out steps to help curb the emission of planet-warming gases, a group of experts urges them to take seriously the health issues at stake.
In anticipation of the U.N. climate change conference, taking place Nov. 29 to Dec. 10, the Climate and Health Council, representing an international network of medical professionals, and others published their arguments emphasizing the importance of a healthy planet for healthy inhabitants in a series of comments online Nov. 25 in the journal the Lancet. The goal of the organization is to advocate the "health benefits of more sustainable lifestyles and the urgency of addressing climate change," and its message is simple: "What's good for the climate is good for health."
Greenhouse pollutants are associated with a reliance on cars for transportation and a sedentary lifestyle, which in turn are linked to obesity, heart disease, cancer, diabetes, stroke and depression, said Council member Ian Roberts, a professor of epidemiology and public health at the London School of Hygiene and Tropical Medicine who co-authored one of the journal comments.
The countries that use the most fossil fuel energy have the highest average body-mass indices (a measure of height and weight that estimates a person's fatness), because higher reliance on car travel is associated with lower physical activity, Roberts explained in his new book "The Energy Glut: Climate Change and The Politics of Fatness" (Zed Books, 2010). For example, obesity levels in Chinese children increased 28-fold from 1985 to 2000, when cars became more popular in the country, he said. [Most Active U.S. Cities]
Measures that aim to combat global warming could also improve health. For instance, limiting livestock production would decrease deforestation and emissions of the greenhouse gas methane from cattle and free up grain for hungry people worldwide, Roberts told LiveScience. He added that trimming animal products from the diet could, in turn, cut rates of heart disease and some cancers.
Battling global warming may require sacrifices, but the global health gains would partly offset the costs, and low-income nations could benefit the most, said Andrew Haines, a professor of public health and primary care at the London School of Hygiene and Tropical Medicine who co-authored another journal comment.
For instance, increasing the efficiency of household cooking stoves (which release harmful pollution) in India could decrease respiratory infections and lung disease, while also reducing greenhouse pollutants. And taking action against climate change could prevent vector-borne diseases, such as malaria, from spreading to higher elevations and becoming more transmissible in Africa. That's because these diseases thrive in warmer temperatures.
Despite the clear link between global warming and illness, so far the subject has played a minor role in negotiations, Haines said.
Representatives from the Climate and Health Council, the International Federation of Medical Students' Associations, the Health and Environment Alliance and the World Health Organization will be lobbying to get the topic on the agenda in Cancun, said Robin Stott, Council co-chair and journal comment co-author. But he's not sure how influential they'll be. "The story we're being told [by local negotiators] is that the health implications of climate change are being considered more cogently than they used to be, but I remain to be convinced that's the case." It may take a better economic analysis of health gains to persuade negotiators to take the issue seriously, Stott added.
The outcome of the last U.N. climate change talks in Copenhagen was a disappointment, because no internationally binding treaty was signed to replace the Kyoto Protocol, which expires in 2012, and health was not a high-priority agenda item. Roberts hopes the Cancun meeting will result in a legally binding treaty to curtail greenhouse gas emissions, but he said "that's very unlikely to happen."
To encourage individuals to tackle global warming, he and his colleagues at the Climate and Health Council are urging medical professionals to sign their pledge. "It's a no-regrets solution," Roberts said. "If we take steps to reduce fossil fuel energy use, we won't be disappointed."
Stay up to date on the latest science news by signing up for our Essentials newsletter.