Scientist: Inject Sulfur into Air to Battle Global Warming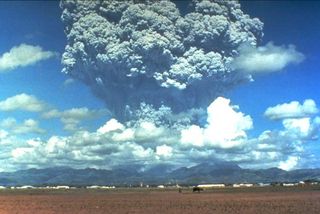 (Image credit: USGS/Dave Harlow)
One way to curb global warming is to purposely shoot sulfur into the atmosphere, a scientist suggested today.
The burning of fossil fuels releases carbon dioxide, a greenhouse gas, into the atmosphere. It also releases sulfur that cools the planet by reflecting solar radiation away from Earth.
Most researchers say the warming effect has been winning in recent decades.
Injecting sulfur into the second atmospheric layer closest to Earth would reflect more sunlight back to space and offset greenhouse gas warming, according to Nobel laureate Paul Crutzen from the Max Planck Institute for Chemistry in Germany and the Scripps Institution of Oceanography, University of California at San Diego.
Crutzen suggests carrying sulfur into the atmosphere via balloons and using artillery guns to release it, where the particles would stay for up to two years. The results could be seen in six months.
Nature does something like this naturally.
When Mount Pinatubo erupted in the Philippines in1991, millions of tons of sulfur was injected into the atmosphere, enhancing reflectivity and cooling the Earth's surface by an average of 0.9 degrees Fahrenheit in the year following the eruption.
"Given the grossly disappointing international political response to the required greenhouse gas emissions, ... research on the feasibility and environmental consequences of climate engineering of the kind presented in this paper, which might need to be deployed in future, should not be tabooed," Crutzen said.
This proposal is detailed in the August issue of the journal Climatic Change.
Other Offbeat Solutions
More to Explore
Video: Goldilocks and the Greenhouse
All About Global Warming
Hot Topic
What makes Earth habitable? This LiveScience original video explores the science of global warming and explains how, for now, conditions here are just right.
Stay up to date on the latest science news by signing up for our Essentials newsletter.
Sara Goudarzi is a Brooklyn writer and poet and covers all that piques her curiosity, from cosmology to climate change to the intersection of art and science. Sara holds an M.A. from New York University, Arthur L. Carter Journalism Institute, and an M.S. from Rutgers University. She teaches writing at NYU and is at work on a first novel in which literature is garnished with science.