High-Tech Haunted Houses Boooost Scare Factor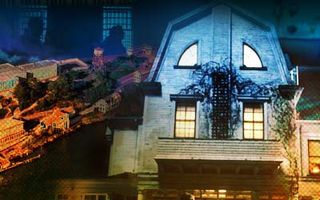 Horror isn't what it used to be. Thanks to the growth of advanced modern technology, coupled with the success of films such as "Slasher" and the "Saw" series, our tolerance and expectations of what makes a good scare have grown over the years.
In response, haunted houses nationwide have had to step it up.
"People have become more desensitized to horror, so now when they visit haunted houses they anticipate something bigger and better than what they experienced there in the past," said Steve Kopelman, a haunted house expert who runs the website HauntedHouse.com. "Beyond just better props and costumes, haunts are investing in high-tech lighting and sound systems, as well as other state-of-the-art technology."
According to Kopelman, the advanced equipment used at Walt Disney theme parks about ten years ago is now affordable enough for haunted houses to make installations: "These show-control systems act as mini-computers and manage everything from robot and monster animatronics to lighting. They are easy to operate and dynamically add to the realism."
The big effects
Various haunted houses across the country have invested significant money into the technology side of the business. For example, The House of Torment in Austin plays out more like a movie than a typical haunted house experience with big-budget creatures and Hollywood-style specialty effects.
Instead of effects activated by sensors, the House of Torment uses infrared video cameras to monitor where people are in the house. The cameras are wired back to a control room where five people sit and determine when to activate certain scare tactics. This ensures that everything goes off at the right time coinciding with what is happening in a scene with the haunted house's actors.
"Technology like this really elevates the quality of the show," said Jon Love, vice president of the House of Torment. "We are always trying to push the envelope when it comes to technology and always look to see how certain features can fit into our business – from video cameras and iPhone apps to zip-line machines."
Last year, The House of Torment experimented with zip lining, which allowed actors to be fly overhead to scare guests via an inclined pulley system.
One of the most innovative recent efforts offered at the establishment is its Haunted 4D Experience, where guests sit in high-tech chairs that create motion, water and air effects while a 3-D movie plays.
"The real magic happens when we stick a monster in the theater and add performance art to the mix," Love said. "No one ever expects it."
More tech touches
More haunted houses are also turning to high-efficiency LED lighting to save on energy consumption. Others are taking advantage of DMX equipment, which links controllers, dimmers, advanced fixtures and special effects devices to easily manage all of the technology on the same network.
Meanwhile, plasma TVs have also made their way into the haunted house world. Nightmare: Superstitions in New York City not only banks on its theatrical appeal to lure guests – the show would be silly not to, with Broadway talent right around the corner – it too uses tech to enhance the show.
Its theme this year plays on superstitions, encouraging guests to open umbrellas in small rooms and break mirrors, all resulting in horrifying consequences. In one room, a 60-inch plasma TV in one room displays a life-size mother's back breaking.
"We didn't want an actress pretending to break her back all night, so this was the perfect solution," said Dan Demello, a spokesman for Nightmare: Superstitions. "At first, animatronics were going to be used in that scene, but after the owner walked around Best Buy for awhile and saw that a plasma was the same price, he knew the scene could be filmed and replayed so it would look more real. And it does. It's pretty disturbing."
David Roy — a sound designer with a theater background — selected an automated playback system called QLab for Nightmare: Superstitions. The software, which runs on a Mac, has 24 channels of playback with 24 outputs, which gives each speaker a different spooky vibe that is synchronized with other speakers.
"Before QLab, we used small individual playback devices so every speaker had its own personalized soundcard," Roy said. "It was a decentralized process that was also time-consuming. Now we can make changes on the fly via remote controls and it gives a lot more opportunity for creativity and flexibility."
Expectations and the future
Although many expect to see high-tech effects in modern-day haunted houses, technology shouldn't be used just for the sake of having more technology, according to Michael Jubie, owner of Headless Horseman Hayrides & Haunted Houses, a 45-acre scare park in Ulster Park, N.Y., that attracts about 5,000 people a night this time of year.
"There is definitely a big need for technology right now," Jubie said. "However, you have to weigh the price too – a monster for $10,000 may be really scary, but sometimes just slamming things into walls can be just as effective."
At the same time, haunted houses aren't "just for putting your hands in a bucket of spaghetti anymore" — an old stage trick used to mimic the feel of rooting around the insides of a person, according to Love. "What worked for the haunted house industry 20 years ago wouldn't work today. We are in an intuitive and digital age, and if we aren't taking advantage of the technologies out there, the younger demographics that flock to haunted houses won't be impressed."
Although the House of Torment's customer base tends to be on the younger side, it's now attracting the attention of older demographics, as well.
"People just appreciate good entertainment," Love said. "If someone hasn't been to a haunted house in ten years, they definitely should go again. They'll be very surprised to see what changes have been made."
Kopelman also believes there is still a lot of life left in the haunted house industry, especially as more technologies get adopted.
"Sure, some technologies such as plasma TVs are popular now, but haunted houses will take it a step further in the next ten years," Kopelman said. "My guess is that the experience is going to be more personalized – whether you fill out something ahead of time or swipe a card that details your preferences, it's only going to get more intense."
Stay up to date on the latest science news by signing up for our Essentials newsletter.
Samantha Murphy was a contributor to Live Science, covering the tech industry. She holds a degree in journalism and cinema studies from New York University.