Why Taking Medicine Works, Even if the Medicine Doesn't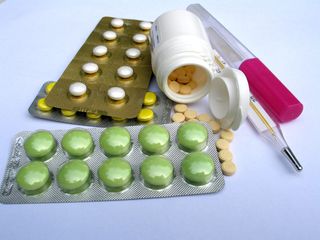 (Image credit: Sanja Gjenero)
You've heard of the placebo effect, in which someone taking a dummy pill feels better. The effect is reaffirmed by new research that reviewed 21 studies involving more than 46,000 participants altogether.
But the conclusion is not just that the power of positive thinking is at work, as other studies have shown.
Rather, taking medicine regularly and properly may indicate a person's overall tactical approach to health.
Half the risk of death
People who take their medicine regularly, even if it's a placebo, have a lower risk of death than those who don't, researchers report in this week's issue of the British Medical Journal. In fact, the risk of mortality was about half that of participants with poor adherence.
The reason may be that people who are good about taking their medicine are better overall at maintaining healthy behavior, the researchers write. It's also possible that people who fail to take their medicine have some other underlying condition such as depression, which can affect overall health.
The researchers, led by Scot Simpson of the University of Alberta, point out that one of the biggest challenges to physicians has long been getting people to take their medicine.
'Healthy adherer'
"Our findings support the tenet that good adherence to drug therapy is associated with positive health outcomes," Simpson and his colleagues write. "Moreover, the observed association between good adherence to placebo and lower mortality also supports the existence of the healthy adherer effect, whereby adherence to drug therapy may be a surrogate marker for overall healthy behavior."
The bottom line, according to a commentary on the findings by U.S. researcher Betty Chewning University of Wisconsin-Madison, Madison:
Healing may lie not in the treatment but rather in patients' emotional and cognitive processes of "feeling cared for" and "caring for oneself." Basing treatments on these ideas "could yield extra value in treatment regimens that patients agree to, believe in, and will sustain over time," Chewning writes.
Study Verifies Power of Positive Thinking
Stay up to date on the latest science news by signing up for our Essentials newsletter.
Robert is an independent health and science journalist and writer based in Phoenix, Arizona. He is a former editor-in-chief of Live Science with over 20 years of experience as a reporter and editor. He has worked on websites such as Space.com and Tom's Guide, and is a contributor on Medium, covering how we age and how to optimize the mind and body through time. He has a journalism degree from Humboldt State University in California.