Gulf Oil Disaster May Cast Long and Costly Economic Shadow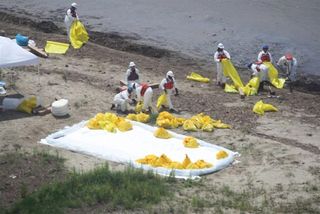 Oil gushing from an underwater well in the Gulf of Mexico means much more than just a shortened fishing season or fewer tourist dollars for local residents. It could easily translate into lost livelihoods and businesses in a region dependent upon a ruined ecosystem covered in oily sludge.
The sinking of an oil rig on April 22 has allowed the underwater well to release an estimated 5,000 barrels of oil per day, and possibly much more based on non-official estimates. That spreading oil slick poses immediate threats to the local fishing industry and tourism, but may also cast a much longer shadow over the economic future of the region.
If the oil penetrates deep within the estuaries around the Mississippi delta, it could devastate the salt marshes and bays that support as much as 90 percent of commercially fished species in the Gulf. That would spell long-term disaster for Louisiana's $1.8 billion fishing industry, not to mention the other Gulf Coast states.
"You have to question what is going to come from this," said David Wyld, a professor of management at Southeastern Louisiana University in Hammond. "Not just during the next few months, but also during the next few years and even a decade out."
On top of it all, there's the economic ripple effect. No fishing means fewer people chartering boats, and closed beaches lead to abandoned vacation plans and cancelled hotel bookings. All of that may only deepen the future economic misery for Gulf Coast residents to the tune of billions of dollars in lost revenue.
So long, and thanks for all the fish
The term "wipeout" would not be too strong for the situation facing the fishing industry, Wyld said. It can start with just one ruined fishing season.
"Shrimpers spend four to five months of the year to make money for the entire year," Wlyd explained. "If you say OK, this year is gone … for most of us, losing your annual income creates a serious situation."
Then the ripple effects kick in. Shrimpers might default on their boat payments. People working in related industries dependent upon the fishing industry have also begun to feel the pinch.
"We have a shrimp packing processing facility located just outside our community, and it's shut down because there's no shrimp coming in," Wyld told LiveScience.
Restaurants that once prided themselves upon serving up locally caught seafood might be forced instead to buy cheaper imported seafood from Vietnam and China. The Gulf Coast fishing industry would lose out on both national and international competitive standing.
Even if the Gulf Coast somehow escaped long-term environmental consequences, enough damage would be done if the local fishermen lost one fishing season. Many might never recover, and only the most financially secure could return next season to try again. That could spur a shift away from individual fishermen and toward the corporate fishing fleets.
"If you're [in] New York or San Francisco you may get foreign and alternate sources of seafood," Wyld said. "But there will be ripple effects throughout the national economy."
On the oily beach
Gulf Coast tourism must also struggle with a potentially dismal season. Recreational fishing might suffer off the Louisiana coast, but a more likely victim is the $4 billion tourism industry spread among Mississippi, Alabama and the Florida Panhandle, according to Bob Robicheaux, a professor of marketing at the University of Alabama at Birmingham.
"I have a small property at Sandestin [in Florida], and I'm praying we don't have to watch oil come up onto the sand," Robicheaux said.
Mississippi and the Florida Panhandle in particular have picturesque white sand beaches that attract both summer tourists and off-season snowbirds who come to escape the winter snow. A loss of 50 to 60 percent of such tourism would have a harsh multiplier effect on the Gulf Coast economy, because people who received tourist dollars could have spent them again.
Robicheaux's conservative estimate suggests that the lost sales for bartenders, wait staffs, restaurateurs and shops could total $700-800 million for the summer of 2010 in Mississippi, Alabama and Florida. That would double to perhaps $1.3-1.5 billion in lost revenue based on the economic ripple effect.
"My brother-in-law owns a hardware store in Florida, and he's already seeing a reduction in business as hotel and condo owners see cancellations and downturns," Robicheaux noted.
Such an economic blow would also translate into perhaps $50-90 million in lost state and local income taxes, which would affect education, health services and other areas of life for Gulf Coast residents.
A defiled ecosystem
Even the harsher immediate economic impacts can pale in comparison to the long-term threat of oil reaching deep into the mouths of rivers and ecosystems along the Gulf Coast.
"Those marshes are kind of the heart of the estuarine system, where we have bays and lagoons that are the nursery grounds for shrimp, crab, finfish and shellfish," said John Tunnell, a marine biologist at Texas A&M University in Corpus Christi.
Here also lies the heart of the fishing industry's long-term prosperity. Much depends upon whether the efforts to plug the gushing oil well succeed, as well as whether cleanup workers can deploy long floating booms that prevent the oil slick from reaching inland.
"We do know that oil kills salt marshes and organisms, that's a given," Tunnell said. "We don't know how long it's going to last and how much oil is going to get there."
Beach areas in the right places can provide some protection for the marshes. But Tunnell noted that the marshes of the Mississippi delta are almost totally exposed with very little beach protection in front of them.
If it comes to the worst, many experts say it's almost best to just let the oil lie and decompose on its own, lest bringing in bulldozers and people worsen the damage to the marshes. Burning off the oil layer has proven useful in the past, but only if the oil remains flammable and has not already lost its lighter components that more easily evaporate.
The Gulf of Mexico also has some natural defenses in the form of microorganisms that thrive in its warm waters and can help break down oil over time. That helps take care of natural oil seepage from the seafloor vents that can add up to the equivalent of a supertanker or two each year, Tunnell explained.
After the storm
Gulf Coast residents have also learned to live tough in past years by enduring natural disasters such as hurricanes. Yet even the powerful storms that wreak widespread damage can yield a small silver lining in the aftermath, when aid dollars pour in for reconstruction.
The economic infusion of construction jobs and equipment sales led to some economic prosperity for some businesses for three to five years after the storms, Robicheaux noted from his viewpoint in Alabama. But an oil spill requires cleanup rather than reconstruction.
BP's failed attempts so far to cover the oil well with a dome means that the Gulf oil gusher can continue spewing oil unabated until a relief well is completed in several months. In the meantime BP is trying other measures to stem the flow, such as a tube that would siphon some of the oil to a tanker.
Some Gulf Coast state governors have tried to push BP to enlist the fishing fleets as part of the cleanup effort, so that they might recoup at least some money from any shortened fishing season. And the White House is asking Congress for funds to cover litigation costs and to help fishermen.
"It remains to be seen how much economic prosperity comes from defiling the Gulf of Mexico," Robicheaux said.
Images: SOS! Major Oil Disasters at Sea
7 Surprising Uses of Oil
Stay up to date on the latest science news by signing up for our Essentials newsletter.
Jeremy has written for publications such as Popular Science, Scientific American Mind and Reader's Digest Asia. He obtained his masters degree in science journalism from New York University, and completed his undergraduate education in the history and sociology of science at the University of Pennsylvania.