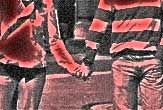 Sex in advertising? Women aren't buying it, for the most part.
In fact, past research has shown that the average woman responds negatively to ads with explicit or gratuitous sexual content. But now, it also looks like women are less offended by these ads if sexual imagery is viewed in the context of a committed relationship.
The study, published this month in Journal of Consumer Research, finds that women respond more favorably to sexual ads when the item in the ad is described as a gift from a man to a woman. In addition, women have high positive responses to sexual ads that depict a committed and loving man — but not for those depicting a committed and loving woman.
The reason, according to the researchers: sexual economics theory, which states that women have more at risk than men when deciding to have sex. Therefore, women have more sexual negotiating power and can hold out until their conditions — both financial and emotional — are met.
The financial condition was explored in the first part of the study. Researchers showed participants two versions of a wristwatch ad that was kind of sexy; in the second version, a red ribbon was tied around the watch, and the following sentence was included: "This watch is positioned as a gift from a man to the special woman in his life." (As a control, participants also viewed non-sexual ads with the same imagery and messaging.)
When viewing the sexual ads, women responded more favorably to the ad with the gift. However, men preferred the sexual ad without the gift. "Despite their steadfast support for sex-based advertising, we did find that men reacted negatively to sexually explicit ads when the ads strongly reminded men that they may, at times, devote monetary resources in pursuit of sexual contact," the authors wrote.
The remainder of the study examined the emotional conditions of sexual economics theory. In various experiments, participants viewed sexual, non-gift ads after being presented with different commitment scenarios. In one, the man was the more committed partner; in another, that role fell to the woman. In the last scenario, both partners were described as equally committed.
The results found that women reacted most positively to the ads when the men were portrayed as the committed partner.
"We took a cultural approach, which comes more from economics than evolutionary psychology or sociology," says Kathleen D. Vohs, a University of Minnesota professor and an author of the study. Men weren't affected in any direction — as long as there was sex in the ad, they reacted positively.
So advertisers, take note: Sex sells. But for women, commitment has real value.
Sex Quiz: What Do You Know?
Sex News and Information
Stay up to date on the latest science news by signing up for our Essentials newsletter.