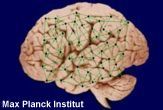 At an age when Americans are first considered adults, their brains are still maturing, a new study suggests.
Researchers at Dartmouth College scanned the brains of nineteen 18-year-old students who had moved more than 100 miles to attend school.
"During the first year of college, students have many new experiences," said psychologist Abigail Baird, the study's principal investigator. "They are faced with new cognitive, social, and emotional challenges."
A group of 17 older students, ranging in age from 25 to 35, served as a control group for comparison. The results showed that the freshmen students' brains underwent significant changes and were very different from that of the older adults.
The changes were localized to the cingulate, caudate and insula regions of the brain. These areas are believed to be where emotions and thoughts are integrated.
The researchers believe the changes represent an increased awareness of the students' inner feelings and an improved ability to organize and integrate incoming sensory information; this synthesis helps shape the kinds of emotional and behavioral responses they have to new experiences.
The results are consistent with other research suggesting that the human brain continues to grow and mature right up to the point when we become adults and even beyond. In another study, researchers found that humans don't really develop the ability to handle multiple pieces of information at once until about the ages of 16 or 17.
"The brain of an 18-year-old college freshman is still far from resembling the brain of someone in their mid-twenties," said Craig Bennett, a graduate student who was involved in the new research. "When do we reach adulthood? It might be much later than we traditionally think."
The study will be detailed in an upcoming print issue of the journal Human Brain Mapping.
Stay up to date on the latest science news by signing up for our Essentials newsletter.