Study: Your Brain Works Like the Internet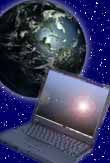 Your brain functions a lot like the Internet or a network of friends, scientists said Tuesday.
Researchers used functional magnetic resonance imaging (fMRI) to study the activity in peoples' brains and how different regions connect. They conclude the human brain can be visualized as a complex interacting network that relies on nodes to efficiently convey information from place to place.
Very few jumps are necessary to connect any two nodes, the study found.
"This so-called 'small world' property allows for the most efficient connectivity," said Dante Chialvo, a physiologist at Northwestern University.
Other networks -- social and biochemical -- rely on the same principle.
The scientists measured the degree of correlation between activities in tens of thousands of brain regions. They found that many of the nodes had only a few connections, and a small number of nodes were connected to many others. These "super-connected" nodes act as hubs -- as with the Internet or your most gossipy friend -- getting the word out quickly and widely.
So maybe, the thinking goes, if you can figure out how the Internet works -- or why your gossipy friend succeeds -- then you can grasp your own mind.
Or, put more scientifically, these findings of basic principles of brain function suggest "that the underlying properties can be understood using the theoretical framework already advanced in the study of other, disparate, networks," Chialvo said. The research could help frame other studies of the brain's role in schizophrenia, Alzheimer's disease and chronic pain, Chialvo and his colleagues say.
The results were detailed in the Dec. 31 online version of the journal Physical Review Letters.
Brain Scans Might Be Better Lie Detectors
Chronic Pain Shrinks People's Brains
Stay up to date on the latest science news by signing up for our Essentials newsletter.
Robert is an independent health and science journalist and writer based in Phoenix, Arizona. He is a former editor-in-chief of Live Science with over 20 years of experience as a reporter and editor. He has worked on websites such as Space.com and Tom's Guide, and is a contributor on Medium, covering how we age and how to optimize the mind and body through time. He has a journalism degree from Humboldt State University in California.