Humans Interbred with Neanderthals, Study Suggests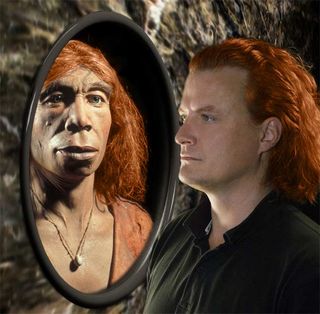 (Image credit: Michael Hofreiter and Kurt Fiusterweier/MPG EVA)
Humans today could be part Neanderthal, according to a new study that found our ancestors interbred with an extinct hominid species some millennia ago.
Neanderthals walked the Earth between about 130,000 and 30,000 years ago. While they co-existed with modern humans for a while, eventually they went extinct and we didn't. There has been intense scientific debate over how similar the two species were, and whether they might have mated with each other.
"The issue has been highly contentious for some time," said University of New Mexico genetic anthropologist Keith Hunley.
Last week at the annual meeting of the American Association of Physical Anthropologists in Albuquerque, N.M., Hunley and colleagues presented the results of a new study that found evidence for interbreeding between modern humans and some other extinct ancient human species – either Neanderthals (Homo neanderthalensis) or another group such as Homo heidelbergensis. The research was first reported by NatureNews.
The researchers looked at DNA samples from humans living today, and found signs of leftover Neanderthal genes introduced from this interbreeding. They looked at genetic data from almost 2,000 people around the world, and calculated how much genetic variation existed between samples. The results indicate that some extinct group of hominids mixed their genes with ours at two points in history, Hunley said.
One period of interbreeding probably occurred shortly after Homo sapiens migrated out of Africa around 60,000 years ago. The researchers found an excess of genetic diversity in all modern people except Africans, suggesting that the influx of Neanderthal-like DNA came after the exodus from Africa.
A second period of interbreeding is suggested by the fact that the researchers measured even more genetic diversity among people of Oceanic descent – people from Australia, New Zealand, New Guinea and other Pacific islands.
"I think we show there's clear evidence in the genome of living people of this mixture," Hunley told LiveScience. "The fact that there's a clear signal implies that there was some significant amount" of interbreeding, he said.
This work is the first time scientists have used DNA from living people to look at this question, Hunley said.
In an earlier study, Erik Trinkaus of Washington University in St. Louis found suggestions of Neanderthal and modern human interbreeding by comparing ancient bone fossils from the two species.
Trinkaus said the new work fits into his findings, though he hasn't reviewed the details yet since Hunley's paper has not yet been published in a peer-reviewed journal. "The conclusion makes sense and fits with the majority of the data available," Trinkaus said.
Another anthropologist who has studied Neanderthal anatomy agreed.
"I have been arguing for this position throughout my career, ever since I began to study Neandertals and other populations," said Milford Wolpoff of the University of Michigan. "It has always seemed clear that some Neandertal anatomy appears in living populations."
Not everyone, though, will be easily convinced yet, Hunley said.
Top 10 Mysteries of the First Humans
Top 10 Things That Make Humans Special
Stay up to date on the latest science news by signing up for our Essentials newsletter.
Clara has a bachelor's degree in astronomy and physics from Wesleyan University, and a graduate certificate in science writing from the University of California, Santa Cruz. She has written for both Space.com and Live Science.