1930s Scottish Police Chief: Save the Loch Ness Monster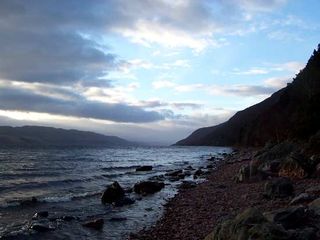 (Image credit: stock.xchng)
Archives recently made public by the Scottish government included some curious correspondence from a police chief expressing concern for the safety of the Loch Ness monster.
William Fraser, the chief constable of Inverness-shire in the 1930s, wrote a letter to a government official noting that a man from London, Peter Kent, "stated that he was having a special harpoon gun made and that he was to return [to Loch Ness] with some 20 experienced men on August 22 for the purpose of hunting the monster down." Fraser added that he warned Kent not to hunt for the creature, and suggested that some official government protection might be established. Still, he was not optimistic: "That there is some strange creature in Loch Ness seems now beyond doubt, but that the police have any power to protect it is very doubtful."
It's not clear whether Kent and his posse returned to the lake, though presumably his success in capturing or killing the monster would have been announced around the world.
Much has been made of the fact that a chief of police believed in the existence of Nessie, though this is not particularly remarkable. People with some level of authority (police officers, ministers, politicians, etc.) often report — and believe in — unproven and unexplained phenomena, from lake monsters to ghosts to psychic powers.
Nor is Fraser alone in his concern for the health of animals never proven to exist. In fact, just about all unknown (and possibly mythical) creatures have believers concerned for their safety. Sandra Mansi, the Vermont woman who took the most famous photograph of Champ, the monster said to inhabit Lake Champlain, is a strong advocate of measures designed to protect the creature. (Later scientific analysis of Mansi's photograph demonstrated that she probably snapped a photo of a floating log, mistaking it for the monster.)
Quasi-legal measures to protect unknown creatures have been promoted by monster enthusiasts and politicians. For example, Champ is "officially" protected by proclamations from both the New York State Assembly and the Vermont Legislature. Similar measures have been proposed that would outlaw the shooting of Bigfoot creatures.
There is of course a strong economic incentive to protect monsters like Nessie and Champ, even if only symbolically: tourism. Loch Ness is the main tourist draw in the Scottish highlands. It's a beautiful lake in its own right, but tourists come from all over the world hoping for a glimpse of the famous monster. The irony is that a dead monster may be the only way to scientifically prove these creatures exist—if indeed they do.
Rumor or Reality: The Creatures of Cryptozoology
Our 10 Favorite Monsters
Benjamin Radford is managing editor of the Skeptical Inquirer science magazine. His new book Scientific Paranormal Investigation will be published in June; this and his other books and projects can be found on his website. His Bad Science column appears regularly on LiveScience.
Stay up to date on the latest science news by signing up for our Essentials newsletter.
Benjamin Radford is the Bad Science columnist for Live Science. He covers pseudoscience, psychology, urban legends and the science behind "unexplained" or mysterious phenomenon. Ben has a master's degree in education and a bachelor's degree in psychology. He is deputy editor of Skeptical Inquirer science magazine and has written, edited or contributed to more than 20 books, including "Scientific Paranormal Investigation: How to Solve Unexplained Mysteries," "Tracking the Chupacabra: The Vampire Beast in Fact, Fiction, and Folklore" and "Investigating Ghosts: The Scientific Search for Spirits," out in fall 2017. His website is www.BenjaminRadford.com.