Tech Shows 2,000-Year-Old Mummy of a Little Girl in Amazing Detail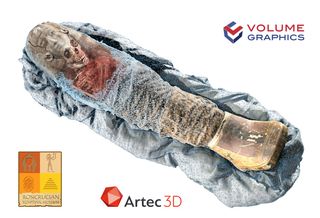 (Image credit: Courtesy of Volume Graphics)
Some 2,000 years ago, the body of a girl who was around 5 years old was mummified and laid to rest somewhere in Egypt. Many of her internal organs were removed, and she was wrapped in fine linen with round earrings, a necklace and an amulet.
Now, a new technique that merges colorful 3D scans of the mummy's surface with CT scans that look beneath the mummy's wrappings will allow people to examine the mummy in amazing detail.
Though the new technique is being used to help tell this mummy's story, researchers believe it will have many applications in archaeology, biology, geology, paleontology and manufacturing. [Photos: The Amazing Mummies of Peru and Egypt]
Peering inside a mummy
Scientists peered beneath the mummy's wrappings using CT scans in 2005. And more recently, they complemented that imaging with an Artec Eva handheld 3D scanner, which could take images of parts of the mummy that could be scanned without touching the mummy. While a CT scanner is better at penetrating beneath the surface of the mummy wrappings, the handheld 3D scanner is able to scan in color, capturing details that a CT scanner cannot detect. Both scans were then combined into a single 3D model using software developed by Volume Graphics.
The model will allow visitors to the Rosicrucian Egyptian Museum in San Jose, California, where the mummy is now located, to see the mummy in exceptional detail simply by using an iPad.
"Guests will be able to move an iPad over the mummy case, in order to see the associated scans," Julie Scott, executive director of the museum, said in a statement. "Our hope is that this new technology will help inspire guests to deeply relate to this little girl who lived so many years ago," said Scott, noting that the girl's real name is unknown, though scientists today call her "Sherit," which is an ancient Egyptian name for "little one."
Sherit, who may have died of dysentery and lived at a time when the Roman Empire ruled Egypt, is one of the first people/artifacts to be analyzed with the new technique.
Beyond mummies
The new technique will have many applications, the researchers said. It "allows for a more life-like, accurate representation of all kinds of objects and thus improves our understanding of these scanned objects," Christof Reinhart, CEO of Volume Graphics, told Live Science. "We can only imagine how this function will be used. Obvious applications in science would be archaeology, biology, geology or paleontology.
"Industrial applications could arise in quality assurance — [for example], when optical features on the surface of an object are to be associated with features inside the object," Reinhart added.
Original article on Live Science.
Stay up to date on the latest science news by signing up for our Essentials newsletter.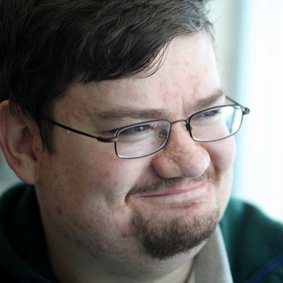 Owen Jarus is a regular contributor to Live Science who writes about archaeology and humans' past. He has also written for The Independent (UK), The Canadian Press (CP) and The Associated Press (AP), among others. Owen has a bachelor of arts degree from the University of Toronto and a journalism degree from Ryerson University.