Military Plans Cyborg Sharks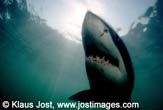 DARPA (Defense Advanced Research Project Agency) has taken another page from science fiction writer William Gibson's book by creating a neural implant to enable engineers to remotely manipulate a shark's brain signals. This would eventually allow them to control the animal's movements and possibly decode their perceptions.
Given that sharks have senses that humans don't have (like the ability to sense electromagnetic fields), it could open up some interesting uses.
The implant consists of multi-channel neural ensemble readers and stimulators, diverse controllers and sensors. In addition, the DARPA researchers want to use their setup to detect and decipher the neural patterns that correspond to shark activities like sensing an ocean current, a particular scent in the water or an electrical field. If they can succeed in these experiments, it might be possible to control a free-swimming shark; it could be trained to track enemy ships or submarines, or to detect underwater mines or cables.
In the abstract for their presentation to the 2006 Ocean Sciences Meeting in Honolulu, Hawaii, the Naval Undersea Warfare Center summarized the implant in the following way:
In his 1981 short story Johnny Mnemonic, author William Gibson wrote about Jones, a military surplus dolphin cyborg that has equipment that is surprisingly similar to the DARPA sharks.
Of course, there is only so much you can do with a friendly dolphin. Maybe that's why DARPA's military sponsors have chosen sharks. Take a look at these related stories about scientists who have used implants to 'jack' into a cat's brain to see what the cat is seeing, or other researchers who have implanted RFID chips in birds to warn of Avian flu.
(This Science Fiction in the News story used with permission from Technovelgy.com - where science meets fiction.)
Stay up to date on the latest science news by signing up for our Essentials newsletter.
Bill Christensen catalogues the inventions, technology and ideas of science fiction writers at his website, Technovelgy. He is a contributor to Live Science.