How Google's Nexus One Phone Compares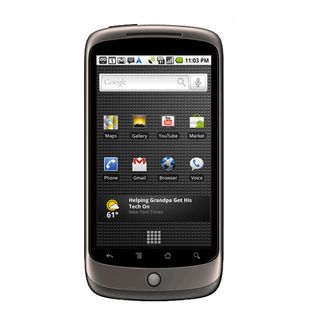 (Image credit: Google)
Google launched its first branded phone today available in both an unlocked version that can be used with multiple carriers and as a subsidized phone tied to a two-year contract with T-Mobile.
In a well crafted publicity strategy, the Nexus One captured the attention of the media and the blogosphere with more than 1,400 online articles before Google employees received the phone to test a week before Christmas. Expectations ran high and with this morning's announcement, the phone is now available to consumers.
The big question, of course: Should you get one? Here are the basics you need to know:
The Nexus One can currently be used with T-Mobile and AT&T in the United States, and a Verizon version is expected to be available in the spring.
The Nexus One was designed to compete with the big players in the mobile market, incorporating features found in Apple's iPhone, RIM's BlackBerry Bold, and Motorola's Droid, which runs on Android, the Google-built operating system also used in the Nexus One. With a retail price of $530 unlocked, the Nexus One is $70 less than its competitors.
To achieve dominance in the mobile world, a smartphone must serve both the business market and the personal market. One life, one phone.
The iPhone may be the phone to beat in terms of raw capabilities, but according to market research company comScore, which rates useage of these devices, BlackBerry smartphones accounted for 14 million U.S. users, followed by the iPhone at just under 9 million users at the end of October.
The Motorola Droid seized a sizeable share of consumer acceptance since its release in November. According to a study conducted in December by analysis firm Changewave, 21 percent of respondents who indicated they plan to buy a phone in the next 90 days, said they wanted an Android phone, up 300 percent since September. Apple's iPhone still led the pack at 28 percent, with RIM's BlackBerry capturing 18 percent.
Can Google's Nexus One compete with the big three? A comparison of must-have features may provide the answer.
Speed
With the Qualcomm 1GHz Snapdragon processor, the Google Nexus One will be the fastest of this smartphone group. Users will experience faster loading and functioning of apps, a welcome respite from the BlackBerry hourglass. The other three phones all have processors clocking in between 550MHz and 624MHz, about half the speed of the Nexus One.
Apps
The Apple apps store has at least ten times the number of apps as those made for either of the other two operating systems. BlackBerry has a selection of the basics, but even though the same app may be available to different operating systems, the interface may be radically different. Facebook, and Twitter on the iPhone and both the Droid and Nexus One are remarkably similar to using these apps on a computer. Due primarily to screen size, the same cannot be said of BlackBerry where available features for Facebook and others are limited, and size is a restricting factor.
Apple has been criticized for its strict and oftentimes lengthy app approval process, which has resulted in delays and even bans of apps that consumers want. However, with more than 100,000 apps, Apple offers far more apps than any other operating system.
Android has the advantage of being open source, so apps can come to market much faster.
"As we head into 2010, expect Android smartphones to capture the attention of corporate smartphone users," Forrester Research analyst Michele Pelino wrote in a Dec. 18 note. "Why? Heavy industry support from Qualcomm and jointly developed devices from Verizon, Motorola, and Google, as well as the open nature of the Android platform let in-house and third-party application developers easily create new applications and integrate them with enterprise apps."
Expect the Android based Nexus One and the Droid to both benefit from the open-source platform. However, Apple has a significant head start and continues to add to its inventory.
GPS
GPS has become a standard feature on smartphones, but features and pricing varies across operating systems. Last November, Google introduced Google Maps Navigation for phones running Android 2.0 and above. That means only the Droid and the new Nexus One can take advantage of this app's voice-activated turn-by-turn directions, real-time traffic updates and satellite map integration. And better yet, unlike GPS service for BlackBerry and iPhone, Google's GPS service is free.
Keyboards
You can't beat a physical keyboard for more accurate typing, but what kind? Some prefer a full qwerty keyboard, which necessitates a slide out or some kind of multi-layer device, and two-handed interaction. Others like an exposed keyboard that lets the user hold and type with one hand. To be effective, a virtual keyboard takes practice to build accuracy. Both the Nexus One and the iPhone have only a virtual keyboard.
The Droid and the BlackBerry Bold have full qwerty keyboards, but only the Droid also has a touchscreen and a virtual keyboard.
Display
Whether a phone, a computer or a TV, bigger is better when it comes to displays. The Google Nexus One and the Droid have 3.7-inch screens, the largest of the four phones in the running.
Google Nexus One is the only phone in this group with an organic light-emitting diode, or OLED, display. An OLED display means a response time as much as 200 times faster than the LCD displays of the competitors and a significant power savings for longer battery life.
Touchscreen brings another layer of functionality to the display. The BlackBerry Bold is the only phone in the group to not have a touchscreen. Since its launch Jun. 29, 2007, the iPhone has set the standard for touchscreens and introduced a gesture-based interaction using sweeps, tilts and pinches.
The Nexus One has the mechanics to provide the same level of interaction as the iPhone, including an accelerometer to detect the device's orientation and adapt the display to landscape or portrait mode, a proximity sensor to turn off the display when it gets close to the face while talking, and an ambient-light sensor that automatically adjusts the screen's brightness to extend battery life.
Voice control and quality
Voice activation has also become important to consumers with states enacting hands-free driving laws and simply for convenience. All of these phones allow voice commands, but the Google Nexus One is the only one with integrated dictation capability, automatically translating voice into text.
Unlike its competitors, Google Nexus One has incorporated a second microphone for noise canceling, similar to noise canceling headphones.
Multitasking
Just like a computer, which allows you to work in Microsoft Office and surf the web at the same time, some phones allow the user to use more than one application at a time: one takes center stage, while the other runs in the background. In its ad campaign, Droid capitalized on its multitasking capabilities in an outright comparison to the iPhone. Running on versions of the same Android operating system, the Nexus One should at least equal Droid, and may surpass it in performance with its faster processor.
WiFi
In addition to Wifi "b" and "g", the Google Nexus One also supports WiFi "n", the most recent generation WiFi standard. It is the only smartphone in the group to do so. Introduced in October 2009, the "n" standard takes the maximum data rate from 54Mbps to 450Mbps.
Camera and video capabilities
Cameras are standard on almost every cell phone, but are being used with more frequency. According to the blog Inside Facebook, 25 percent of Facebook users access their page by mobile phone, making not only the camera with its video capabilities important, but a one-touch upload social networking and photo sharing sites. The four phones have similar integration for easy uploading, but the cameras differ. Only the Google Nexus One and the Droid have 5MP cameras, a noticeable improvement over the iPhone camera at 3MP and the BlackBerry camera at 3.2MP.
Exchange integration
To be an effective business phone, it must integrate tightly with a company's professional messaging service, most often Microsoft Exchange. Both iPhone and BlackBerry do this, but there is a big difference between the two.
"We use iPhones because they can integrate tightly with Exchange without the need for a BlackBerry server," said Dale Edwards, Vice President of Information Technology for iMed Group in Houston. "BlackBerry servers tend to make an exchange environment more complex, and we like that iPhones tightly integrate out of the box."
Android systems were designed to work with Exchange, but a known bug was found that should be fixed in future updates. Since Nexus One will run Android 2.1, a more recent version of the operating system, it is reasonable to expect a bug-free Exchange integration.
A viable competitor
Feature by feature, the Google Nexus One is on par with the market leaders with the exception of apps, and offers some improvements such as faster processor speed, current generation WiFi connectivity, and an OLED display. With features to support both business and personal use, the Google Nexus One is in the game.
Side-by-Side: Compare Nexus One with Other Phones
This article was provided by TopTenREVIEWS.
Stay up to date on the latest science news by signing up for our Essentials newsletter.
Leslie Meredith is a contributor to Live Science. She has a bachelor's degree from UCLA in psychology and has directed tourism and ski publications for the Salt Lake Visitor & Convention Bureau and managed promotions and events for Sunset Magazine.