Ready, Aim, Blast! NASA Engineer Creates World's Largest Super Soaker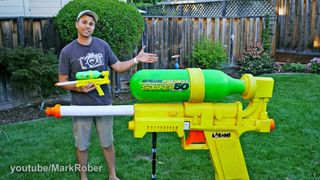 (Image credit: Mark Rober/YouTube)
If you're going to challenge someone to a water gun fight this summer, it's best you don't take up arms against Mark Rober, a former NASA engineer who has created the world's largest Super Soaker.
Rober's 7-foot-long (2.1 meters) Super Soaker can blast out water at 272 mph (437 km/h), according to his YouTube video, posted July 11. (To date, the video has already amassed 1.2 million views.)
"When the Super Soaker was first invented, it was an absolute game changer in my neighborhood," Rober said in the video. "So now that I'm a dad and I know how to engineer, I decided to once again level up my water-fighting capabilities." [Top 10 Inventions That Changed the World]
Any avid engineer can make an enormous water pistol, but Rober — who spent nine years at NASA's Jet Propulsion Laboratory (JPL), seven of which were spent working on the Mars rover Curiosity — went above and beyond by doing his water weapon homework. He called up Super Soaker inventor Lonnie Johnson, an engineer originally from Mobile, Alabama. Johnson recalled how he thought of the idea for the Super Soaker in 1982, while working at JPL on Galileo, an uncrewed spacecraft that was sent into outer space to study Jupiter and its moons.
"I was experimenting in the bathroom in the evenings," Johnson said in Rober's video. "I had made these nozzles that I had hooked up to the sink, and as I shot this stream of water across the bathroom, and I saw how powerful it was and how satisfying it was, I thought to myself, 'High pressure, high-performance water gun — really cool.'"
Really cool, indeed. The water tank on Johnson's original Super Soaker doubles as a pressure container. Each time an agent (aka a sneaky kid or mischievous adult) pumps the gun, air is forced into the tank. This increases the air pressure inside the tank, with the extra air molecules pressing down on the water. When the trigger is pulled, the only place for the water to go is through a tube that leads to the nozzle, where it goes out at full blast.
The Super Soaker that Rober made with his friends works in a slightly different manner. It would be too cumbersome and difficult to pump up a 7-foot-long pistol, so instead, they installed two tanks — one with high-pressure nitrogen gas and the other with water — in the gun's handle. This extra weight also gave the Super Soaker a low center of mass, giving it increased stability and maneuverability, Rober said.
When a trigger is pressed, the nitrogen gas rushes into the 2-gallon (7.5 liters) water tank, Rober said. Once the pressure in the water tank gets high enough, the water is forced up a tube and through the gun's nozzle, decimating anything in its path. (It bears mentioning that Rober's Super Soaker is not affiliated with Hasbro, the toymaker that retails Super Soakers.)
The pressure produced by this aqua beast is enormous: The original Super Soaker developed by Johnson was pressurized to 40 pounds per square inch (275 kilopascals); a regular hose is 50 psi (350 kPa); and a fire truck hose is 300 psi (2,000 kPa), Rober said. The giant Super Soaker produces eight times the pressure of a fire truck hose at 2,400 psi (16,500 kPa), he said.
"Which, in hindsight, is probably overkill," Rober joked. [The Cool Physics of 7 Classic Toys]
Water shot from the colossal Super Soaker can slice through watermelons, hot dogs, bananas, eggs and can even be used in a water fight against small children, albeit from a distance, for safety's sake.
The water gun took six months to make. It's not the only toy Rober has supersized. In 2016, he and his friends built the world's largest functional Nerf gun, according to Guinness World Records. The darts, made of pool noodles and toilet plunger suction cups, can exit the gun at about 40 mph (64 km/h), Rober said.
Original article on Live Science.
Stay up to date on the latest science news by signing up for our Essentials newsletter.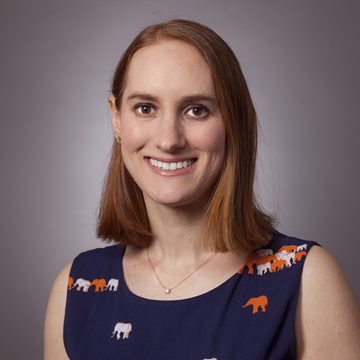 Laura is the archaeology and Life's Little Mysteries editor at Live Science. She also reports on general science, including paleontology. Her work has appeared in The New York Times, Scholastic, Popular Science and Spectrum, a site on autism research. She has won multiple awards from the Society of Professional Journalists and the Washington Newspaper Publishers Association for her reporting at a weekly newspaper near Seattle. Laura holds a bachelor's degree in English literature and psychology from Washington University in St. Louis and a master's degree in science writing from NYU.